Meet the Team
TWO MEN AND A TRUCK® San Diego opened August 2012 with dedicated Franchisees Pedro and Alicia. Located in Kearny Mesa, it was the first Southern California location for the brand. 

The TWO MEN AND A TRUCK® brand in San Diego shares a special family connection: Alicia's dad and uncle are the company's original "two men" and the company's founder, Mary Ellen Sheets, is Alicia's grandma. These family ties translate into family values. One of the company's core values is THE GRANDMA RULE®, which means to treat each customer the way you would want your grandmother to be treated. We're proud to use THE GRANDMA RULE® each time our team approaches a move
Meet the Office Team
Rayce M.
Mover of the Month: March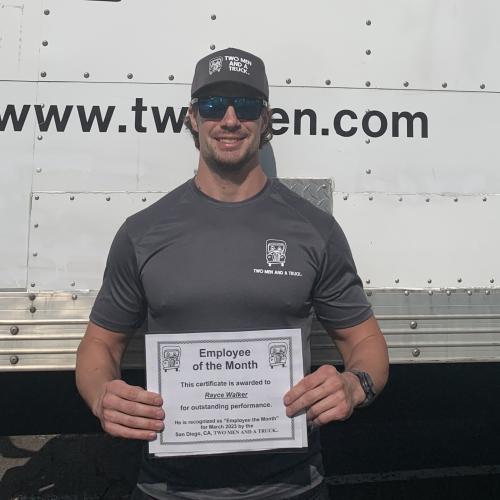 Each month, we recognize a top mover on our team based on customer feedback, attendance, and attitude. Congrats to Rayce, January Mover of the Month for TWO MEN AND A TRUCK San Diego!

Here's what a customer recently said about Rayce:

"My guys were the best and working under less than ideal situations with broken elevators etc. They also wrapped all my precious items very carefully. all really nice guys!" - Maria

"The two guys who helped us move did an exceedingly good job with packing and moving!" - Angela

Great Job, Rayce!