At TWO MEN AND A TRUCK, we live by a set of core values which were created to guide us each day as we work to exceed our customers' expectations.
These aren't just cliché taglines we stick on our walls – these are a way of life, and something each member of our brand strives to live by each day. This list of core values is highlighted by one in particular that stands out about the rest: THE GRANDMA RULE®.
THE GRANDMA RULE embodies who we are as a company and was inspired by the early days of TWO MEN AND A TRUCK® and the people who helped created it. Throughout every TWO MEN AND A TRUCK franchise across the globe, you'll find mentions of this core value and see our teams firsthand living up to it as best as they can.
What is THE GRANDMA RULE®?
The message of THE GRANDMA RULE is simple: To treat everyone the way you would want your own Grandma to be treated.
This goes for everything from how our teams interact with and treat customers, to working alongside coworkers, members of the community, and more. Treating everyone we interact with the same way we want our own grandmas to be treated ensures we give others the care, compassion, and respect they deserve.
Living our core values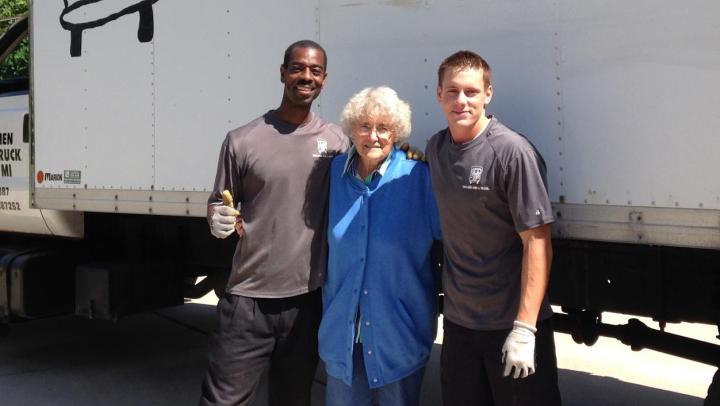 "When moving our senior customers, it's a team effort from start to finish to ensure they feel cared for and comfortable with the entire moving process."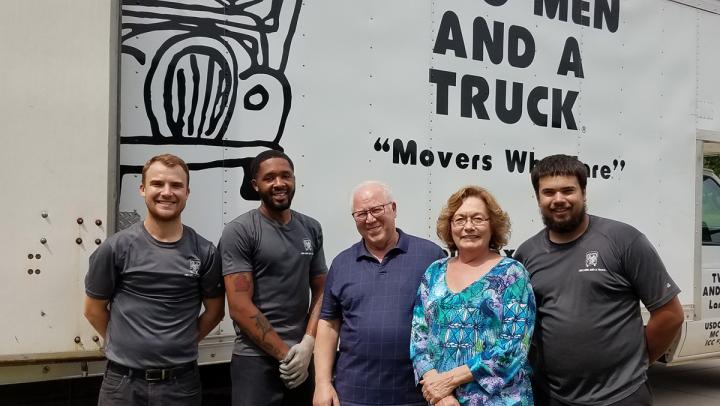 "Care, compassion, and understanding are all critical when living out THE GRANDMA RULE®. We make it our number one priority on senior moves to create a positive moving experience."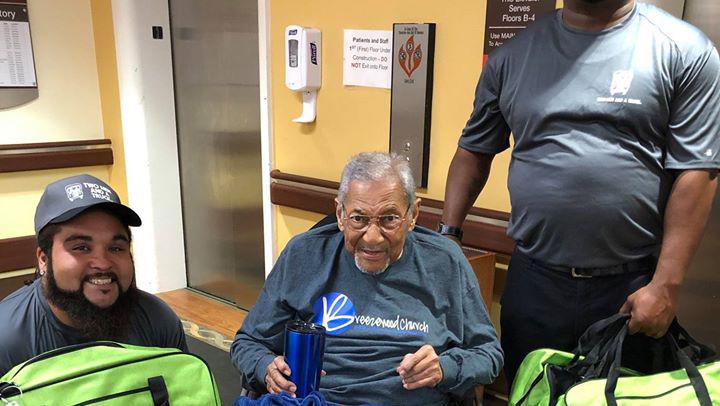 "THE GRANDMA RULE® motto goes well beyond the world of moving. We do our best to give back to seniors in our communities any way we can."
THE GRANDMA RULE® History
To understand the history of THE GRANDMA RULE, you need to go back to the very beginning of TWO MEN AND A TRUCK.
When Founder Mary Ellen Sheet's two sons – Brig and Jon– began moving people in the Lansing, Mich., area in the mid-1980s as a way to make a little extra spending money, they began to make a name for themselves with their services.
As both sons went off to college, Mary Ellen kept receiving calls about the business and decided to keep it going by hiring a few local movers. Doing this while also juggling a full-time job proved difficult, but luckily her mother was there to help with her new business. "Grandma Eb" offered up her backyard as a place to park the trucks and allowed her small barn to be used as an "office" of sorts, providing a home base for the growing operation.
Her support and dedication to the brand in these early days was instrumental in getting TWO MEN AND A TRUCK up and running, and she even took it upon herself to help with small tasks involved with the business. She cared for each and every member of the team and even coined the nickname the "yard boss". Her care and compassion not only for the moving team but for the company's customers is a great reminder that strong customer service and how we treat people goes a long way. This is how THE GRANDMA RULE came to be.
THE GRANDMA RULE® in our day-to-day operations
"THE GRANDMA RULE, to me, exemplifies everything we want and expect out of our employees and ourselves," said Brian Stern, a TWO MEN AND A TRUCK® multi-unit franchisee with locations in New Jersey and Maine. "The idea is to treat each and every one of our customers as if they were our grandmothers. If we do that, every customer will be treated with respect, patience, and empathy during difficult moving situations."
This is a message you can find being relayed by all TWO MEN AND A TRUCK franchisees to their team members. Living by this idea is an expectation, and it's something all of our movers, drivers, customer service representatives, managers, team leads, and franchisees take tremendous pride in.
It also plays a huge role in our mindset when helping seniors with their moving needs, which is a service we help with often. Oftentimes, senior moving can be an emotional process as it usually includes downsizing and leaving behind a place they've called home for many years.
Understanding this and learning how to work with them through this difficult time is critical in ensuring they have a positive move experience. Following THE GRANDMA RULE, along with completing specialized training, allows our teams to handle senior moves with care and ease.
"Oftentimes, a senior move involves downsizing from a long-term home, and it can be a complicated and emotional experience," said Alexa Lanier, a multi-unit marketing director for the TWO MEN AND A TRUCK® Fort Lauderdale and Boca Raton locations. "Our customer service representatives and in-home consultants work with the customers to account for the destination of all items, which can involve multiple stops or storage. Our movers then take the time to make sure every item gets to where it needs to go."
What our customers are saying!
"The friendliness of both the office and moving staff was incredibly welcome! I hired them to move my grandma, and anyone who treats her well deserves my highest recommendation."
Danielle, Oklahoma City, OK
"The movers went above and beyond for my grandma, and I will be eternally grateful to them for being so kind and courteous. They even set up her bed. From the bottom of my heart thank you so much."
"I appreciated the patience they had with my grandma, and the respect they had when handling all of her things. They really made the moving experience way easier on me and my family."
Tealy, Grand Rapids South, MI
"The entire experience was awesome! The guys were professional and so friendly. They made moving my mom into her new assisted living apartment so much easier. They made her laugh and smile. I cannot say enough wonderful things about our service. Thank you!!!"
"I was very happy with Sam and his team that moved my mom. She has issues with memory, and I so appreciated them being kind and patient with her. They were great in putting items in certain places and efficient in reassembling my mom's bed. I would recommend your company."
"The guys that moved my mom were very respectful and kind. They were careful with her items and took steps to make sure they delivered the everything as is. They asked questions when needed to ensure correct wishes. They were also tasked to move some heavy items that were not going on the truck, which really helped our family. You guys were THE BEST!"