Need flexibility with your home move? Our customers find value in utilizing our onsite storage facilities during home renovations, downsizing, and during transitional living between homes.
Whether you have just a few boxes, countless crates of knick-knacks, and or handed-down antique furniture, we offer many storage unit solutions of different sizes to fit your individual needs. College students also find our secure storage facilities useful as a temporary solution during the summer months until they can move back to campus for fall classes.
On-Site Vaulted and Warehouse Storage
Our locations have various storage rental options for customers to choose from. Be sure to ask your local TWO MEN AND A TRUCK what they offer for your storage needs and they can ensure you are equipped with a storage container that best fits your needs. 
In addition to onsite storage options, many TWO MEN AND A TRUCK locations have partnered with local storage companies to ensure our customer's belongings are kept safe during transition.

We are committed to making your entire moving experience seamless! Whether you need storage space for one month or one year, TWO MEN AND A TRUCK has your moving and storage needs covered.
Mobile and portable Storage
Mobile and portable storage options are now available at select franchise locations! Whether it's short-term or long-term, these storage units are handy to store belongings while transitioning from one location to the next. Our 16 ft. and 5' x 8' x 7.5' sized storage units are safe and reliable, and you'll never share storage space with another customer's belongings.
We can drop off the storage unit whenever you need it, and you even have the option of our movers loading it for you. Pricing varies by location. Please contact your local TWO MEN AND A TRUCK franchise for more information.     
TWO MEN AND A TRUCK STORAGE OPTIONS
Our locations have various storage options for our customers. Be sure to ask your local TWO MEN AND A TRUCK office what they offer for your storage needs.
In-Between Moves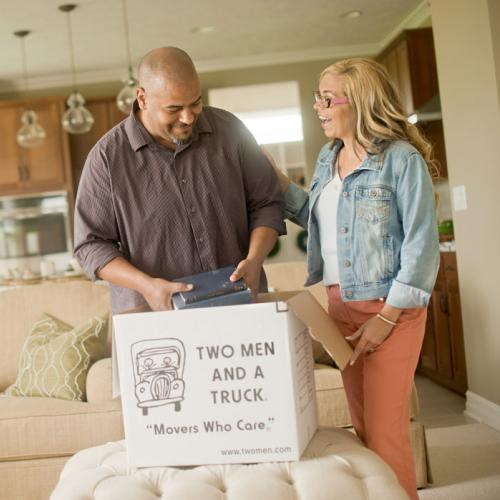 Another short-term storage need we see often is when customers find themselves between homes. Whether their home has sold quickly and they need to move into a temporary home or apartment until they find a new home, or they are waiting on construction of a new home and need to store items, customers know they can call on TWO MEN AND A TRUCK for storage of their items during this transitional time.
Renovations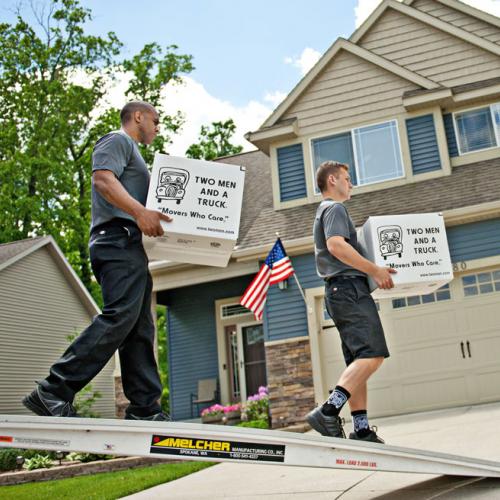 Renovations can be a pain with having to move items out of the home for various periods of time, just to move them right back in when work is complete. For these reasons, customers find our easy storage options ideal for short-term solutions.
Downsizing
Downsizing is oftentimes even more stressful than the move itself! Between paring down items, garage sales, and finding time to donate unwanted items, many customers still find themselves with items they aren't ready to part with, but need to store. TWO MEN AND A TRUCK storage services are handy for longer-term storage needs.
FIND STORAGE NEAR ME
See if storage is available in your area by using the map below.