Meet Your Milwaukee Team
Radell Staples
"Driver of the Month"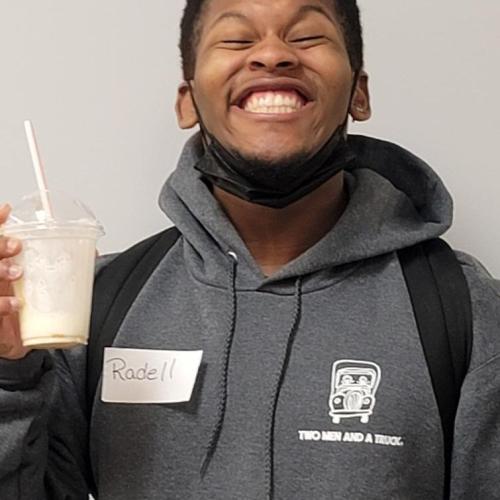 Radell is, above all, friendly and outgoing. He goes out of his way to make sure people are having a good day and provides every customer with a positive experience.

Radell had the remarkable achievement of a 100% referral rating throughout all of 2022. According to his team, he's a rising star who is improving every day and striving to provide his best service for our customers. In addition, Radell is our resident Truckie mascot for the Milwaukee location, making appearances at nonprofit and community events.
 
Radell says he has grown in responsibility since working at TWO MEN AND A TRUCK.

"I've really had to take my time to do things the right way and learn the right steps," he said. "And I think I'm getting there!"
 
Meeting new people is a big part of what he enjoys about the job. He loves getting to experience and meet people who are different from him.

"I feel like I respect people differently now, because I've seen different things. I've gone from the poorest house to the richest house. I've moved businesses … all kinds of places … all different kinds of people … people that live for free … and people that do all kinds of things. I'm more open-minded now." 

Radell's philosophy on life. Simple. "Treat people how you want to be treated." 

Skye's teams love being around him because his glass is not just half full, but full and running over! His positivity is contagious, and he brings everyone around him up. Skye invests himself equally in the care of our customers and employees, helping us offer the very best TWO MEN AND A TRUCK experience to all. Because he's an optimist and genuinely enjoys his work, our teams look to him for a smile, even in stressful situations.

Skye started off at our Waukesha office, took on the role of operations manager there, and, based on exemplary performance, was promoted to General Manager for our Milwaukee location. Skye exemplifies our company's core value of "be your best and have fun," and we wouldn't be nearly as much of either without him.
For Lisa, the complexity of business moves is what kept her volunteering for large business projects and ultimately moved her forward into her current Business Move Consultant role.

"It's like putting together a puzzle, then making sure the puzzle stays together from beginning to end," she said.

Lisa is a firm believer that learning as much as possible about other team members' roles helps her better understand what is best for her customers. As a result, she has taken full advantage of the classes and skills advancement programs available through TWO MEN AND TRUCK and believes this makes her a well-rounded customer advocate.

Lisa has received many sales and achievement awards during her time at TWO MEN AND A TRUCK, but she says her favorites are the general "Congratulations on Being YOU!" awards. She says her commitment to the company has grown over time as relationships have grown and developed.

"It's like a family," she said. "As the family has grown, so has the depth and breadth of my job and my commitment to everyone there."

Kelly first started working at TWO MEN AND A TRUCK in April of 2013. Her favorite thing about working at TWO MEN AND A TRUCK is that every day is different—she never knows who is going to call and what kind of scenario she will be dealing with.

In her spare time, she enjoys spending time with her family. If she could travel anywhere in the world, she would go to Bora Bora because it is absolutely beautiful and looks very relaxing.
Chantell started working for TWO MEN AND A TRUCK in January of 2019 as a Moving Consultant.

Her favorite thing about working for the company is the family environment and that someone always has an answer to every question.

In her spare time, she enjoys spending time with her family. Chantell's favorite thing to do is watch Vampirnia with her daughter. If there's any place she could travel to it would be Africa.

Claire Fayle saw an Indeed Job Post for TWO MEN AND A TRUCK and went for it! She'd said she'd heard great things about the company and couldn't resist applying. "I try to remember that my dreams won't chase me. I have to chase my dreams," she said with a smile.

As a move consultant, Claire applies her communication and customer service skills to assist customers in scheduling moves, along with answering any questions they may have

"And I am loving it!" she said. "I've always been a compassionate and sympathetic 'people' person, and I think that's why this role fits me so well. Moving can be stressful, so it's nice to have someone who's knowledgeable on the other line, guiding you through your move from beginning to end."

Claire's favorite part about working at TWO MEN AND A TRUCK is that every day is different and brings its own challenges.

"It's so different from any other job I've had!" she shared. "I am actually excited to come to work and set goals for myself. It's uncomfortable getting out of my comfort zone, but how can I expect to grow as a person if I'm always comfortable? I like that this job pushes me to be better and work harder."

"It helps, too, that I have some awesome colleagues I get to work with every day," she added. "It's a fast-paced environment, but also very chill and humble."

To anyone considering applying for a job with TWO MEN AND A TRUCK, Claire says, "Do it! You won't regret it! If you're compassionate, hardworking, aren't afraid to get out of your comfort zone, and love talking to people, this job has your name written all over it!"

"I have been loving every minute of this journey we call life," said Claire. "And my customers make it so worth it."

As operations manager of one of the largest TWO MEN AND A TRUCK franchises in Wisconsin, Toni works hard to support the crew so they can give their best.

"From the newest team member to the oldest, we are all trying to make ourselves and the company the best we can be," she said.

Initially hired as a moving consultant in 2007, Toni has worn almost every hat in the company—answering phones, making confirmation calls, running deposits, bookkeeping, marketing, handling damages, dispatching … the list goes on! Toni would not change a thing.

"It's a lot of what has shaped the person and team member that I am today," she said with a smile. "I have learned to be comfortable with the uncomfortable. These days most of my time is spent on special projects and then training and troubleshooting for others in the roles I've held."

The high level of community involvement is one of Toni's favorite things about working at TWO MEN AND A TRUCK. She says it's important for her to work for a company that gives back to the community she's part of. Part of why she enjoys working on business moves is because they generally symbolize growth, progress, and helping the company move forward—good for the job market and community.
Tim first became interested in the Quality Control manager position at TWO MEN AND A TRUCK back in 2020 because of the unique opportunity it provides for him to make an immediate positive impact. As the champion of operational quality throughout the franchise, he is always on the lookout for new and improved ways to serve our customers.

On a daily basis, Tim talks extensively with customers, hears their individual stories, and provides recommendations and feedback to the TWO MEN AND TRUCK team regarding how to upgrade the customer experience. His curious brain is always working, optimizing, and planning for how the organization can improve.

This curious brain of Tim's thrives on travel and nature. He loves to explore, taking his wife and daughter on hikes and outdoor trips. If he could travel anywhere in the world, he'd visit Japan to see the temples, shrines, and active volcanic craters. He'd also love to travel to Washington State and revisit fond memories of the "thick fog hanging over monolithic trees in the morning." (Fun fact: Tim is also a published author.)

When not traveling, he is content to fuel his day in the office with coffee. Lots and lots of coffee. One more sip as the phone rings. It's a customer with a story.

"Ah, good." Tim settles in to listen.

Many of you may know Cody Napoli as the friendly voice on the other end of the line with our customers and staff every day, communicating status updates, move day arrival times, and making proactive decisions to meet and exceed customer expectations. But who is this man behind the voice?

Well, he's tall—very tall—but still the shortest out of his brothers, with siblings logging in at 6'6" and 6'5". And, as you may guess from the height advantage, Cody loves anything to do with sports. On his days off, you can often find him watching or playing basketball and competing with those tall brothers of his! He also follows stocks very closely and can talk about crypto-currency for hours!

Cody joined the TWO MEN AND A TRUCK team as assistant ops manager on May 3, 2021, but he's no stranger to customer service and managing high performance teams, having held past management positions at both UPS and Jersey Mike's.

"I'm a very positive person," said Cody. "I try to enjoy the little things in life. My grandmother and I always say to each other 'I'm here for a good time, not a long time.' For me, it's all about living in the present, making a positive impact, and helping people move forward positively every day."

Cody sees value both in high-impact situations and the small moments in daily life, such as bringing a smile to the face of a customer or a laugh from a co-worker during a stressful situation. He attributes this positive attitude to his parents who have led by example and continue to be important role models in his life. At TWO MEN AND A TRUCK, Cody appreciates that he can immediately see the positive impact his decisions make for customers and staff.

Devonte came to TWO MEN AND TRUCK to further his career. "I can actually say I fell in love with it," he said. "To just bring joy to customers for the time I was with them felt like something I could do for a long time. Five years later, I'm still bringing smiles—just from behind a desk!"

In the role of operations coordinator, Devonte is responsible for the day-to-day performance of the crew and trucks. His goal is to ensure a smooth day for both customers and internal teams alike. He believes effective communication goes a long way in achieving a smooth move project, and he attributes a former moving partner with helping him to overcome shyness and find his voice. "It's important to learn from each other," he said. "You can actually become known for being good at something you used to struggle with."

His favorite part of working on business moves is meeting new people and learning what they need from us to succeed. "The more I get out in the field, the more I learn—whether it's putting together or breaking down something I've never dealt with before, learning the operational ropes of that business, or just getting to know the client's culture."

Outside of TWO MEN AND A TRUCK, Devonte is all about family. "It's important to make certain that home is as good as work—if not better," he said. "Nothing makes me happier than being a good father and knowing that my kids are doing well."

Lisa has been with the TWO MEN AND A TRUCK franchise since 2000 when she started doing the books for the Madison franchise while in college. She's a true TWO MEN AND A TRUCK success story, having moved through the ranks to become general manager of several franchises and now president and co-franchisee of TWO MEN AND A TRUCK Milwaukee.

Lisa said, "I've been on the receiving end of opportunity up to this point in my career. Now I'm excited to give others those opportunities. The higher up you get, the more your success comes from the people around you. I'm excited to lift those people up and see more opportunities for all of our locations combined."

Lisa's core belief is that people are the organization's most important asset. "We're a service company, not a product," she said. "Our people provide that service. They are our assets. Without them, we can't provide. All people at every level need to have a feeling of value and inclusion. I want them to know they're empowered. No one is 'just' a mover or 'just' a receptionist here. There is no 'just' anything. Each role is important."

Mary began her career at TWO MEN AND A TRUCK in March of 2016, bringing a vast human resources background and extensive knowledge of HR laws and policies. Her favorite thing about working at TWO MEN AND A TRUCK is the employees. She loves her work, loves the company, and believes co-workers begin to feel like family.

In her spare time, Mary enjoys spending time with her family, her dogs, cooking, and gardening. If she could travel anywhere in the world, she would happily go back to New Orleans, Louisiana, for the Cajun food and history.
Jess first started working at TWO MEN AND A TRUCK in February 2007 as a Moving Consultant and quickly proved herself to be dependable, thorough, and an enthusiastic team player. She loves that every day at TWO MEN AND A TRUCK offers the opportunity to meet new people.

She enjoys spending time with her partner and her kids, collecting retro toys and cartoons from the '80s and '90s, as well as Pop Head Figures. In her future? Backpacking through Europe to see all the history in person and soak up everything the world has to offer.
Heather believes that jobs are not big enough for people and that most people are looking for a calling. That's why she fully embraces the TWO MEN AND A TRUCK mission of Moving People Forward®. A longtime agency business development professional in Kansas City, Heather brings more than 20 years of franchise marketing experience and B2B sales acumen. One of her favorite parts of her position with TWO MEN AND A TRUCK is shining a light on the human stories of leadership, mentoring, integrity, and excellence that spring up among the ranks.

"I'm a huge fan of transformational growth. Whether it's a home remodel, a personal renewal, a new hairstyle, or a new and better way to do something at work—I love celebrating and being part of improvement," she said. " I appreciate how our teams at TWO MEN AND A TRUCK are always striving to improve and raise the bar for excellence."