COMMUNITY SERVICE
Community Partners
At TWO MEN AND A TRUCK® Montgomery County we live out our core values by giving back to the community. We aim to make a positive impact by dedicating time and resources to those in need through a variety of non-profit organizations that provide specialized services. We are committed to showing our community that we are the MOVERS WHO CARE®. To visit one of our community partners' websites just click on their name highlighted in orange below.
Application for Donated Moving Services
TWO MEN AND A TRUCK® is committed to giving back to our local community. As we are the Movers Who Care, we have access to critical resources such as trained professional movers and trucks to haul big loads. Our sponsorships are primarily made through in-kind donations of moving services. 
To apply, please complete the 0262 Donated Services Request Form and email it to claudia.ziara@twomen.com and info0262@gmail.com. To be eligible, organizations must be 501(c)3 and the application form must be received at least 90 days prior to the event date. All requests must be made in writing and submitted by the deadline. Please allow a minimum of 30 days for a written response. All responses will be sent by email only to the email address provided in your application.
Availability is limited. While we wish we could support all of the worthy submissions we receive each month, the volume of requests is far greater than our ability to accommodate each one. We appreciate your understanding should your request be one that we are unable to support. 
TWO MEN AND A TRUCK Campaigns
Movers for Moms®
The sixth annual MOVERS FOR MOMS® campaign was a success! Thank you to our Community Partners: the Woodlands Community Presbyterian Church, The Woodlands Family YMCA Shadowbend and The Woodlands Family YMCA Branch Crossing. Donations benefitted the Montgomery County Women's Center. Donations ranged from cleaning supplies, clothes, baby gear, furniture and so much more!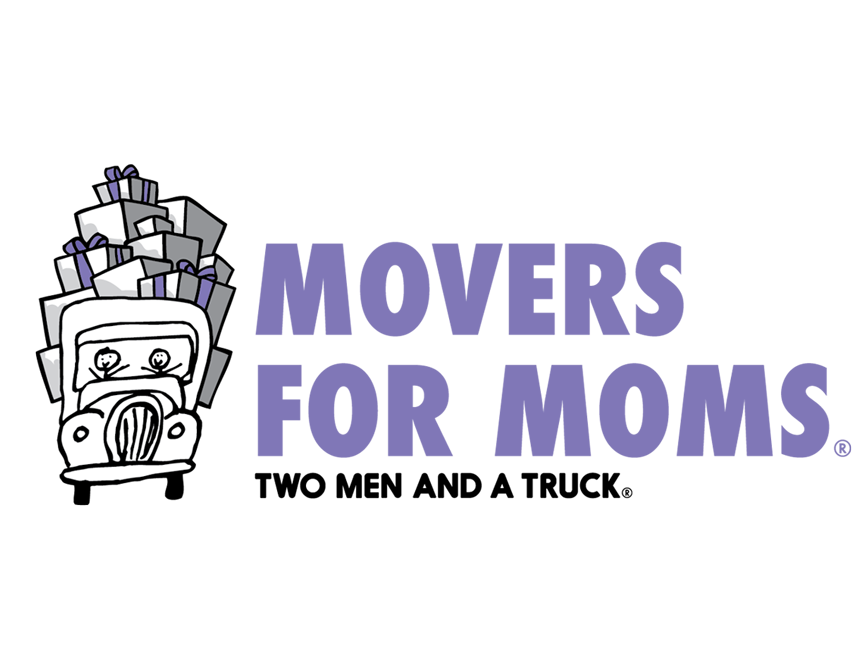 Local Partners
CASA CHILD ADVOCATES OF MONTGOMERY COUNTY
Child Advocates of Montgomery County (CASA) provides and promotes court-appointed volunteer advocacy so that every abused and neglected child can have the opportunity to thrive in a safe, nurturing, permanent home. CASA has a 501(c) (3) classification from the federal government and is a registered non-profit charity. Each year we donate in-kind services for the annual fundraiser and gala. To contact CASA, please call 936-441-5437.
HABITAT FOR HUMANITY MONTGOMERY COUNTY
HFHMC is an ecumenical nonprofit interfaith ministry that builds decent, affordable homes. So far they have built 95 homes in Montgomery County! This is our fourth year to support HFHMC by donating in-kind services for their annual gala.
INTERFAITH OF THE WOODLANDS
Interfaith of The Woodlands is a 501(c)(3) non-profit social service agency providing numerous programs and services to meet the needs of The Woodlands and the surrounding area. Services include senior transportation, child care, employment services, family services, a food pantry, job assistance, job counseling, crisis assistance and workforce services. Once a month we pick up donations throughout Montgomery County and deliver to Interfaith free of charge. If you would like to make a donation, please contact Interfaith at 281-367-1230. 
Donations may also be dropped off to Interfaith's resale shop, the Hand Me Up Shop, M-F 8:00am - 5:00pm. All proceeds generated from the shop benefit Interfaith's programs and services. 
JAZZY JUNQUE
Jazzy Junque (& other great stuff) is an extension of New Danville, a 501(c)(3) charitable and educational organization. New Danville is a master-planned, self-sustaining, integrated community where adults with intellectual and developmental disabilities can "Live, Learn, Work and Grow". The second Tuesday of every month we pick up donations throughout Montgomery County and deliver to Jazzy Junque free of charge. If you would like to donate an item, please contact the Jazzy Junque store at 936-441-4500.
New Danville hosts "Tea on the Lawn" each April to raise funds for their various programs. Tea on the Lawn 2019 will be held on April 26th. Purchase tickets at http://www.newdanville.org/tea-on-the-lawn/
MONTGOMERY COUNTY WOMEN'S CENTER
The MCWC provides a 24-hour hotline, safe shelter, crisis intervention, counseling, advocacy and legal services to survivors of family violence, sexual assault and stalking. The shelter has been providing a safe emergency refuge for abused women and children for over 30 years.  The shelter can house up to 75 women and children each night. All services are free with the exception of income-based rent for transitional housing. Our local Movers for Moms® program collects essential care items throughout April and early May and delivers them to MCWC for the women and children living at this shelter. To contact the Woodlands office please call 936-441-4044.
MOTHERS AGAINST DRUNK DRIVING
MADD is a nonprofit organization whose mission is to stop drunk driving, support the victims of this violent crime and prevent underage drinking. Sadly, several members of our team have lost loved ones or have had a close family member hurt by drunk drivers. We join the fight to end drunk driving in our community. We have proudly supported Walk Like MADD & MADD Dash since 2014 by donating in-kind services for this event. Walk Like MADD & MADD Dash 2019 will be held October 26, 2019 at Lone Star Community College - Montgomery Campus. Head to www.walklikemadd.org/thewoodlands for more information!
SOUTH MONTGOMERY COUNTY YMCA
The YMCA is a 501(c)(3) cause driven organization whose mission is to put Judeo-Christian principles into practice through programs that build healthy spirit, mind and body for all. You will find our booth at many YMCA events throughout the year including Healthy Kids Day, the Kids Triathlon and Halloween at the Y. To register for programs visit the local YMCA website here. 
WOODLANDS AREA CHAMBER OF COMMERCE
Our franchise was honored at the 2016 Woodlands Area Chamber of Commerce Awards luncheon for our 10th anniversary! JJ Hollie, President and CEO of the Chamber presented Steve with an award to celebrate this milestone.
YES to YOUTH - MCYS
YES to YOUTH - MCYS is a not-for-profit 501(c)(3). Their mission is to provide crisis counseling, shelter programs, and prevention services to strengthen families, keep youth in school and prepare them to be productive citizens. Each year we donate in-kind services for the annual gala and Ladies Night Out events. 
To contact the YES to YOUTH - MCYS Woodlands office, call 281-292-6471.