Meet our TWO MEN AND A TRUCK® team!
We take our reputation as the "Movers Who Care®" very seriously here in Garland, Texas. Recognizing that moving can generally be a hectic time in life, our goal is to do everything we can to ease your stress. Through an extensive, hands-on training program, our movers and drivers are fully equipped with the knowledge and skills it takes to keep your belongings safe during a move. 
Topics covered in training include:
proper furniture wrapping, padding, and loading techniques. 
floor and wall protection measures. 
driver education. 
customer service expectations
Professionally Trained Movers 
In addition to thorough training, we guarantee that our team members are background checked, drug-screened, and uniformed to further your peace of mind during the moving process. TWO MEN AND A TRUCK® understands the importance of caring for your items from start to finish. Our comprehensive onboarding and training program were strategically shaped with our customers (and their belongings) in mind. 
Mover Appreciation 
At TWO MEN AND A TRUCK®, we are advocates of employee recognition and rewarding those who go above and beyond, on and off the job. To be considered for our latest Mover Appreciation Giveaway, crew members had to show leadership, exceptional customer service, and have top-notch moving reports. Javonta Williams was one of our winners of a 65" Smart TV! His passion for the job, our customers, and their belongings is obvious as he is constantly encouraging his teammates to follow his lead. We are very lucky to have Javonta on our team – his hard work never goes unnoticed!
National Move Hero
Our very own D'Angello Thompson was recently awarded the 2019 "National Move Hero" award in Las Vegas. This is a prestigious award and we are so proud of D'Angello for bringing to home to Dallas!  We now have two "National Move Heros" on our team!  D'Angello is a Driver and Regional Trainer for our locations in Dallas.  His positive attitude and laughter are infectious.  We are so lucky to have him on our team.  Way to go D'Angello!  Click this link https://blog.twomenandatruck.com/2020/03/09/two-men-and-a-truck-announces-dangello-thompson-as-2020s-national-move-hero/ for more information on D'Angello and the National Move Hero Award.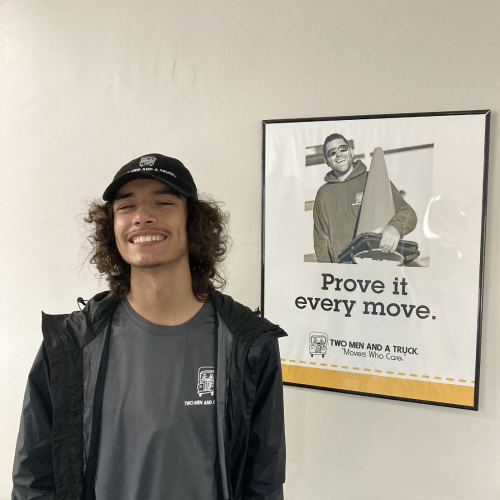 As a new addition to our Garland team, Micah has already shown great customer service skills. Micah grew up in the Dallas area and has a background in junk removal. In the future, Micah looks to become an engineer or even a musical artist. In his free time, Micah loves to make music with his friends. We are so happy to have you on our team, Micah!