TWO MEN AND A TRUCK® Community Efforts
As Garland's "Movers Who Care®", we recognize the importance of giving back to our local community and helping those in need. Our team is proud of the donated time and efforts contributed to several organizations across Dallas and its surrounding cities. From providing boxes for clothing drives to actually hosting various supply drives, we are up for anything if it means supporting our neighbors. With that being said, if you are with a 501(c)(3) nonprofit and believe that TWO MEN AND A TRUCK® would make a good partner, we would love to hear from you and discuss potential opportunities!
TWO MEN AND A TRUCK Campaigns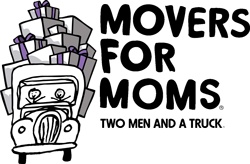 Movers for Moms®
As the "Movers Who Care®" we are always committed to giving back. Our entire staff dedicates time and resources, whenever possible, to different charities throughout the Dallas area. In 2016 we collected thousands of items locally for our Movers for Moms® campaign and through the donations supported women in need at Genesis Women's Shelter in Dallas. Interested in being a part of this important effort - we are also always looking for additional partners to aid our collection efforts!
MOVERS FOR MOMS® 2022
We will launch our 2022 Movers for Moms® campaign beginning April 1st, benefitting Hopes Door New Beginning Center. Across North Texas, we have over 18 donation sites ready to accept items until May 6th.  All proceeds will be delivered to the shelter in May!
2022 Partners:
The Barre Code
4757 W Park Blvd Ste. 112 Plano, TX 75093
Sweetwaters Coffee and Tea Panther Creek
3010 FM 423 Ste. 500 Little Elm, TX 75068
Bearfoot Lodge
4415 Sachse Rd Sachse, TX 75048
Burn Boot Camp
120 W Cityline Dr Richardson, TX 75082
Allen Public Library
300 North Allen Dr Allen, TX 75013
Fit Factory
320 Winecup Way Garland, TX 75040
Renegade Customs
2045 Kristy Lane Rockwall, TX 75032
Sir Speedy
1420 Valwood Pkwy Carrollton, TX 75006
Rockwall Dance Academy
447 E Interstate 30 Rockwall, TX 75087
Brumley Gardens
10540 Church Rd Dallas, TX 75238
Denton County Brewing Company
200 E McKinney St Denton, TX 76201
Luna Elementary
1050 Lochness Ln Garland, TX 75044
Serve Denton
306 N Loop 288 Denton, TX 76209
TWO MEN AND A TRUCK® Plano
624 Haggard St Ste. 706 Plano, TX 75074
TWO MEN AND A TRUCK® Garland
1824 N 1st St Garland, TX 75040
TWO MEN AND A TRUCK® Carrollton
3208 Belt Line Rd Ste. 220 Dallas, TX 75234
TWO MEN AND A TRUCK® McKinney
1330 N McDonald St Ste. 111 McKinney, TX 75071
TWO MEN AND A TRUCK® Denton
5800 I-35 N Ste. 402 Denton, TX 76207
For a complete list of items, you can donate, see our Movers for Moms® Information Hub!
Local Partners
CHEERIODICALS
TWO MEN AND A TRUCK® often lends a hand to Cheeriodicals, a company that makes gift boxes to children who are in the hospital. We are so thrilled to be able to help with such a wonderful cause, and put a smile on a deserving child's face! 
PAT & EMMITT SMITH CHARITIES
Below is a picture of a recent event with Pat & Emmitt Smith Charities where thousands of deserving students were able to pick out their school uniforms for the year at no cost! We were so honored to even be a small part of such a large event that impacted so many people in such a positive way. 
Partnerships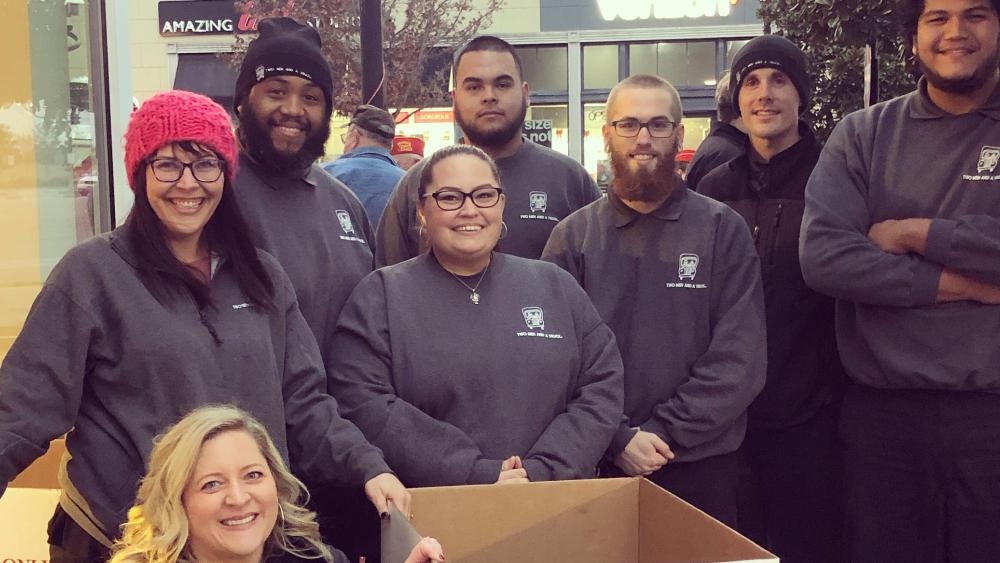 Toys For Tots
Our TWO MEN AND A TRUCK Dallas area locations have been proud partners with Toys For Tots DFW for over 10 years. We are proud to donate our services and time to such a worthy cause. Our crews work long and hard hours collecting toys from various locations across the Dallas Metroplex to make sure that every child in DFW has a toy to open on Christmas morning. We are proud to support the United States Marines in such a great cause. Our TWO MEN AND A TRUCK crews have moved thousands upon thousands of toys for Toys For Tots in the Dallas Metroplex - we are so honored to be able to give back to our community.