We're hiring! Join our talented team in Fort Worth.
Meet Our Team!
At TWO MEN AND A TRUCK Fort Worth, Texas, our employees are our pride. Every day, we live by the TWO MEN AND A TRUCK Core Values:  
INTEGRITY: To always conduct oneself with honesty and fairness
THE GRANDMA RULE: To treat everyone the way you would want your Grandma treated
CARE: To have compassion for family, customers, co-workers, and community
INCLUSION: To welcome people from all backgrounds in the workplace and the community
BE YOUR BEST AND HAVE FUN: To be the best professionally and personally while enjoying life and having fun
We're always looking for great people to join us! To check out our open positions and apply, click here.
Adrianne
Mover of the Month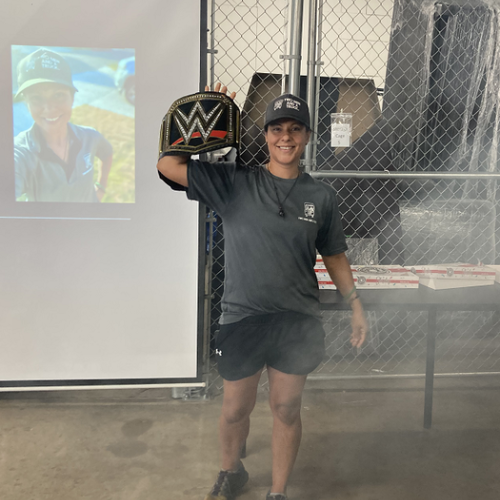 Congratulations to Adrianne, who is our June Mover of the Month! Adrianne has been a mover since March of 2022! Along with being a mover, Adrianne is also a full-time mom to her son and dog. She is also a personal trainer and a furniture refinisher and painter! Adrianne enjoys hiking and camping and has a dream of visiting every National park in the US!
Tanner has been with TWO MEN AND A TRUCK Fort Worth since the Spring of 2020. Originally hired as a mover/driver, he recently became our Move Manager. In this role, Tanner ensures our trucks are running properly, heads up our daily dispatch meeting, and conducts on-site quality control spot checks of our moves. Tanner's favorite place to be is "anywhere there is no cell phone signal" and you'll find him there (or will you?) hunting or fishing with his trusty rescue dog, Ace.
As Location Manager, Mark is responsible for making sure our crews uphold our high standards, so you might see him at your home or office on moving day doing a quality check. Mark also serves as a supervisor to our movers and drivers and ensures they have the tools and equipment they need each day. Originally from Louisiana, Mark now calls Saginaw his home.
Hayli was recently promoted to Sales Manager after serving our customers in the role of Move Coordinator. Within just a few short months of coming on board, Hayli was recognized as one of the top 10 customer service representatives throughout the TWO MEN AND A TRUCK system (that's over 350 locations!). She comes from a musical family, and when she's not working you can find Hayli playing guitar at a Worship service or re-reading the "Chronicles of Narnia."
As one of our Move Coordinators, it's Jennifer's job to help customers plan their move. She walks through every step with her customers, ensuring the process is as easy and stress-free as possible. Her achievements with customer service and sales earned her Salesperson of the Month for November 2020. Outside the office, Jennifer can usually be found riding dirt bikes in the Texas countryside with her two kids.
As Recruiting Coordinator, Parker's job is to find the very best movers and drivers for our Arlington and Fort Worth franchises. Once hired, she ensures their paperwork is completed, and in order before their in-depth training program begins. A current student at UTA, when Parker is not at work or school, you may find her reading a classic romance like "Pride and Prejudice".
Say hello to Sierra! She works as a recruiter at our Fort Worth location and plays a critical role in bringing on new team members to help us move even more customers forward. She's calm, collected, and level-headed while working with new and existing team members to ensure they're ready to go on the job.

When she's not here helping to build our team, you can find Sierra attending concerts or spending time with friends!

Sak started with TWO MEN AND A TRUCK Fort Worth about four years ago when he moved to Texas from his home country of New Zealand. A true leader, his consistent performance as one of our top drivers recently earned him a promotion to Team Lead for our Fort Worth franchise. In this role, Sak trains the movers and drivers, keeps things going smoothly for customers on moving day, and ensures our high standard of service is consistently met. When he's not busy working, you can find Sak training at the gym or playing in a local rugby league.
Meet our team lead, Sakaraia! "Sak" is what we call him around the office, and he's been a part of the TWO MEN AND A TRUCK family for six years now. He is known to show great leadership values on the job and lives up to each of our company core values, which helped him with Mover of the Month honors last month. He currently holds a 100% customer referral rating and is a perfect example of what dedication and perseverance on the job looks like!
Jessica started out at the Mesa, Arizona TWO MEN AND A TRUCK® franchise and transferred to Fort Worth in 2017. Her job is to manage payroll and process all the paperwork relating to our moves. She also gets our new employees set up with their benefits and training plans. Jessica is a huge movie buff; her extensive DVD collection includes every genre and just about any popular movie you'd ever want to see.
Meet Nick, our new general manager! Nick originally started his journey with TWO MEN AND A TRUCK working at the location in Nashville, where he worked in a variety of roles, such as move consultant, quality control manager, operations manager, and general manager. He's a veteran in the system, and his extensive background and experience has helped him transition easily to his new role here in Fort Worth. He's eager to get started with his new team here and we're proud to have him on board!
When he's not here at the office, you can find Nick spending time with his dogs, watching old, cheesy action movies, and going out to various events with his wife.

Gordon started his TWO MEN AND A TRUCK career over 18 years ago in Columbus, Ohio. Since then, he's worked his way up through the system and has now fulfilled his dream of owning his own franchises. When he's not working, you can find Gordon spending time with his wife and children.
Taylor started working with TWO MEN AND A TRUCK in Huntsville, Alabama in 2007. His talents were quickly recognized and he moved up within the system. After serving as General Manager for three of our Arizona locations, he eventually realized his dream of owning his own franchises. In 2017 he purchased multiple franchises in Fort Worth, Texas and now lives here with his wife and family. Taylor has been a huge Dallas Cowboys fan all his life, so living here in the Arlington/Fort Worth area, he really feels at home.
You can tell Elle is a mom of three, just by the way she takes great care of her customers. Whether she's doing a video estimate, setting up a move, or making a post-move follow-up call, her warmth and friendliness set customers' minds at ease. As one of our top salespeople, Elle achieved Salesperson of the Month for November 2020. Outside of work, you will find Elle spending time with her family watching Harry Potter or Star Wars movies.
Meet Kayana! She is one of our superstar customer service representatives, helping to get customers booked for moves and answering any questions they might have about the moving process along the way. Kayana brings an upbeat attitude with her to the office each day, and her desire to be great at her job shows with every single call she takes. We're thrilled she's part of our team!
Meet Ashley, a customer service representative for our Fort Worth team! Ashley is originally from Michigan, but has made her home here and the area and established herself as a crucial member of our sales teams. She's developed a strong work ethic from her days as a combat medic in the U.S. Army, and you can see her determination each and every day in the office as she works to surpass her sales goals and provide our customers with the best experience possible.

Outside of work, Ashely is a newly married mother of three who enjoys dance and psychology. She's been a competitive dancer for more than 17 years and has numerous choreography awards under her belt. We're so lucky to have her on our team!

Meet Kiara, the newest team member here at TWO MEN AND A TRUCK Fort Worth! She might be new, but her impact on our team is already being felt with the upbeat personality and bright smile she brings to work every day. She's a natural in her customer service representative role and does an excellent job of assisting our customers with getting their moves booked.
When she's not moving our customers forward, you can find her spending time with her church community, doing yoga, and rock climbing. We're thrilled to have her on the team!