We're hiring! Join our talented team in Fayetteville.
Meet the Fayetteville Team!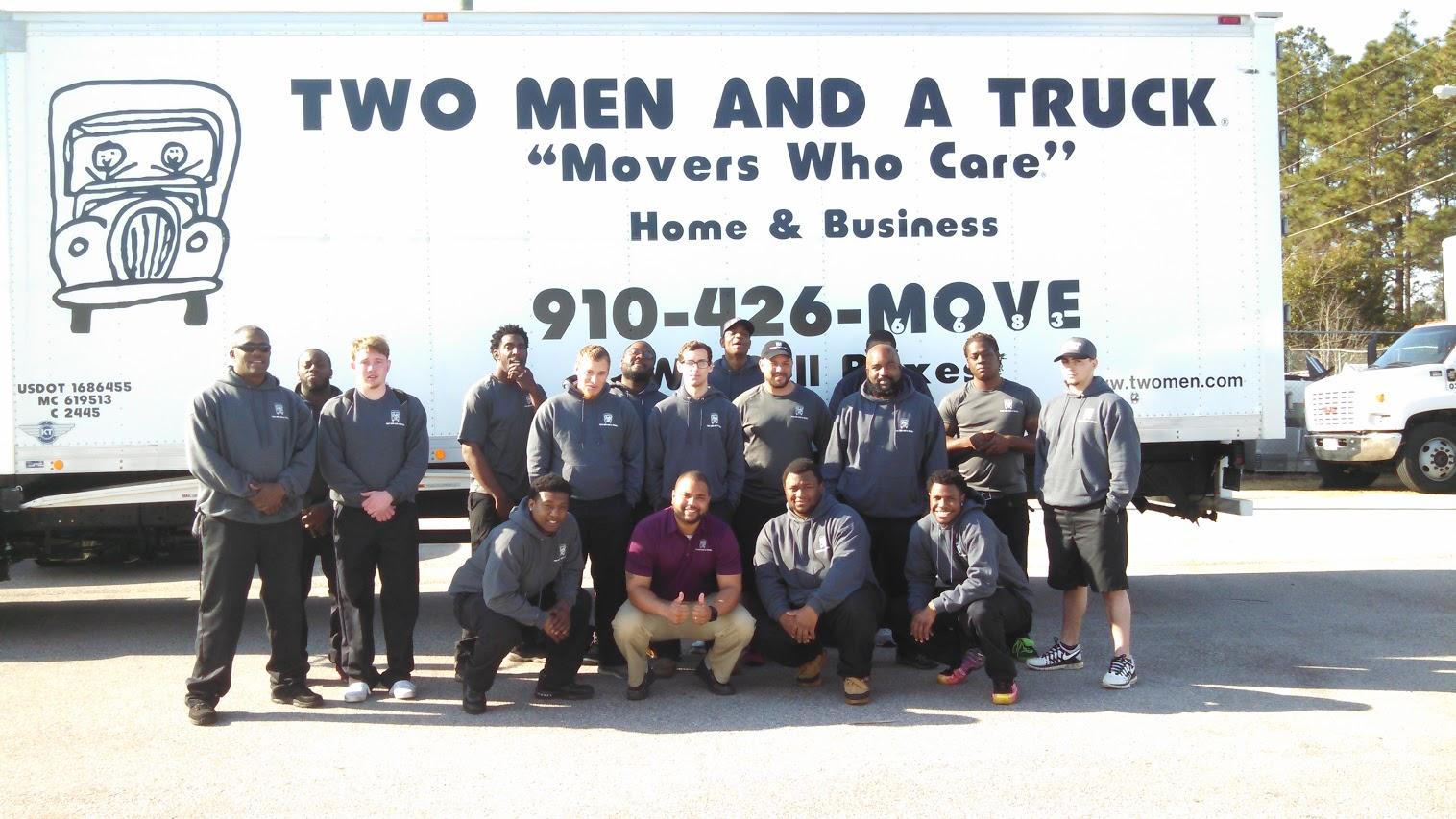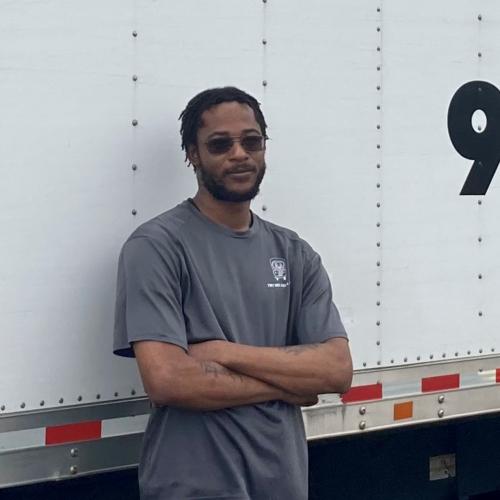 Latavious George is one of our outstanding movers with the TWO MEN AND A TRUCK of Fayetteville location. He is from the Virgin Islands and has been with us for almost a year. He is the youngest of 7 boys in his family. Customers love Latavious and regularly comment on his upbeat attitude and hard work ethic. He has a daughter and a son and loves spending time with them. In addition, he loves getting together with friends and playing basketball and other games together. We are so happy to have Latavious on our team.
Katie Burrus is a native of Fayetteville, NC. She has her degree in Business Administration from Fayetteville State University. Katie is currently in our Frontline Foundations program and learning all about the various roles at TWO MEN AND A TRUCK. Even though she has not been with us long, she is already excelling greatly in all she does here. Katie loves meeting customers in person or virtually. And most importantly she always wins any costume contests we have. In her spare time, Katie loves spending time with her family.
Tiffany is originally from Moorehead City, NC. She moved to Steadman, a town near Fayetteville, two years ago. This is actually Tiffany's 3rd "N" state as she has also lived in North Dakota and New Mexico. Tiffany has been with TWO MEN AND A TRUCK since July of 2019. According to Tiffany, her favorite part of her job, is getting to know the customers. She feels like many of them are an extension of her family. In her spare time Tiffany enjoys reading and painting as well as spending time with her family. Tiffany has been a wonderful addition to the team and we are lucky to have her.
Robin Brokos has been with our company for 4years in various positions in Customer Service and Operations. This cross knowledge of TWO MEN AND A TRUCK has helped Robin excel in her time here. Recently Robin has taken on the role of Office Manager to learn a greater understanding of some of the administrative aspects of the business. We are excited to see what she can do in this role. Robin is a native of Pennsylvania and has been residing in Fayetteville for 10 years. She joined our team as a customer service representative in June of 2016 and later became our Sales Manager. She loves the eclectic nature of the customers she interacts with daily and assisting them with their unique moving circumstances. Once the workday is over Robin enjoys spending time with her sons. Robin has a love-hate relationship with the puns that are ever-present in our fun and happy workplace. Robin is looking forward to the new challenges that working on the administration side will bring!
Charlie Allen is one of the franchisees of TWO MEN AND A TRUCK Fayetteville. He is a graduate of NC State University and started his career with TWO MEN AND A TRUCK in Raleigh working on the trucks in college. He enjoyed that work so much that he decided that it would be great to bring the brand to Fayetteville and the surrounding area. When asked what is his favorite thing about the company he said, "One of my favorite things were the smiles we got at the end of the move, not only from the customers but also from the rest of the team when the move was completed." He currently resides in Fayetteville with his wife Kristie who also works in the business.
Tyreese Robinson has been with TWO MEN AND A TRUCK of Fayetteville since December 2020 and is our newest Driver in Training. Tyreese has completed 66 moves and has a 4.97 out of 5.0 customer satisfaction rating and a 99% referral rate. Recently, Tyreese has been our most requested mover by repeat and referred customers. His positive attitude and strong work ethic directly contribute to the success of our team. Please join me in congratulating Tyrese on his promotion to Driver in Training.
Joshua Masterson is the new Operations Manager at TWO MEN AND A TRUCK of Fayetteville. In that capacity, he is responsible for all day-to-day frontline operations for the organization. Josh comes to us from our Sanford location where he was a mover over the summer while he was transitioning from being an attorney for the United States Coast Guard after serving almost 5 years. Josh is a Clemson undergrad and a graduate of the Charleston School of Law. When asked what he likes about this job he said he loves to do different things every day as well as make the lives of our customer's easier. As the son of a career military father, he understands a few things about moving. When not at TWO MEN AND A TRUCK, Josh loves spending time with his wife Lauren, his two dogs Callie and Pippa, and hiking, working out a reading biographies.
Dayshawn Ray has been on the TWO MEN AND A TRUCK Fayetteville team for over a year. He was born and raised in St. Pauls, NC. He has been a driver for the location a majority of that time. When asked why he likes the job, he said that he enjoys making the customer happy and that every day is a new experience. In his spare time, he likes to spend time with friends and family as well as going to the gun range and playing video games. We are very excited to have Dayshawn as a member of our team.
Kameron Talbott is our newest driver to TWO MEN AND A TRUCK of Fayetteville and has recently completed his DOT certification. He is also a customer favorite and has one of our highest customer service scores. Kameron is from the area and took this job because he loves making people happy and helping them through a stressful day. In his spare time, Kameron loves lifting weights. When asked to take this photo, he pointed to the phone number and told us to be sure to mention that customers ask for Kameron as he will be sure that their move goes smoothly.
Damion Owens is a new mover for TWO MEN AND A TRUCK of Fayetteville. Currently, he is studying exercise science at Fayetteville Technical Community College. He has a goal of eventually being a Physical Therapist. Damion likes working at TWO MEN AND A TRUCK because as a college athlete, it helps him stay in shape. In his spare time, he likes working out and hanging out with his friends. We are very excited to have Damion as part of our team!
Our newest mover hails from Philadelphia, PA. Kaheil enjoys working at TMT because he's constantly moving and getting a workout in. Outside of work, Kaheil loves playing basketball and talking sports. He also enjoys bragging about his little brother, Justin Edwards, who is currently the #1 ranked high school basketball player.
Darik Norris is originally from Hillsdale, Michigan. He came to North Carolina 15 years ago after a brief stint in Florida due to inheriting land from his family. His favorite thing to do is kayak on the Cape Fear River. He has one dog and one cat. He applied to be a CSR at TMT because enjoys speaking with people.