Meet the St. Louis Team
Tyler Roath
Operations Manager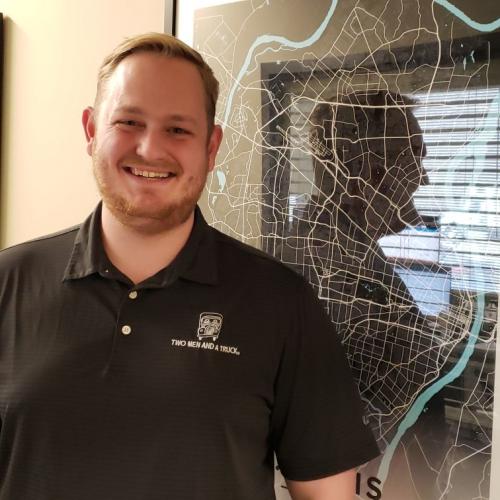 I started with TWO MEN AND A TRUCK in May 2021. I am a proud veteran and college student earning a degree in Business Administration. I love the energy here and enjoy interacting with so many different people every day. When not at work I enjoy spending time with my wife and being outdoors.
Hi, my name is Kiara. I am a self-proclaimed food critic, but I also love online shopping and spending time with my fiancé and puppy. I thrive in a dynamic fast-paced work environment and I enjoy working as a CSR for TMT. I hope to learn and grow with the company.
Congratulations to our February Move Hero, Chase! He was recently promoted to Logistics Manager! He joined our team as a mover 3 years ago. He is a hard worker. When we asked him what he likes to do in his free time, he quickly answered, sleep. He also enjoys spending time with his dog, Athena. Athena is Rottweiler/Weiner mix! He would love to travel to Brazil.
Michael began working with TWO MEN AND A TRUCK® in 2004 before leaving and coming back in 2019. Michael's favorite part about working here is that every day is different, and he is motivated by getting the job done. When Michael is not at the office you will find him on the golf course.
Hi. I'm Janet. I am the in-house CPA. I joined TWO MEN AND A TRUCK in 2005. It's great how we have a whole team working together to make your move as smooth as possible. We're like a family so it also makes a great environment to work in. We all work hard but we all play hard too. I have two kids in college so now my husband and I enjoy watching college sports.
I began working in the Accounting Dept. at TWO MEN AND A TRUCK in March 2010 and there's never a dull moment – even after 6 years! I'm proud to say this is my home away from home, and everyone here is like family. When I'm not at TWO MEN AND A TRUCK, I am spending time with my family playing games, and driving my youngest son around for weekend activities. I also like redecorating my home in my 'spare' time.

I started in October of 2013. My background is in Fashion Merchandising and marketing. Who knew I would be the happiest at a moving company? Today I would much rather tell people about our new 26 foot Freightliner or gun safe dolly than discuss the September issue of Vogue. One of our core values at TWO MEN AND A TRUCK® is "Give back to the community". I have the pleasure of overseeing our charity efforts. Last year alone we donated over 1500 man hours to local St. Louis Metro charity organizations! I am thrilled to work with such a caring and fun group.
Hello everyone! I have been with TWO MEN AND A TRUCK® St. Louis since June of 2007. I started as a driver supervisor, and now I have moved up to Logistics manager. I have been with the company this long because I enjoy the work, people, and I believe in the product we are selling. When I'm not at work assisting our moving crews, I can usually be found at home participating in online gaming. When my friends are able to coerce me out of the house, we usually go riding our motorcycles, dirt bikes, or four wheelers. Thanks for stopping by America!
John opened TWO MEN AND A TRUCK® St. Louis back in 1994. His favorite part of his job has been mentoring and helping others develop into becoming franchisees throughout the years. Growing up, John lived in Detroit, where he owned an auto-repair company, which ultimately pushed him to open his TWO MEN AND A TRUCK® franchise. Tom Brady is his biggest inspiration, even though he's often mistaken for Brett Favre.
I had the pleasure of working with Two Men and a Truck for 10 years prior to joining the team in 2012. When not working, I enjoy spending time with my family and friends. Free time is consumed with another passion…watching the Stanley Cup Champion St. Louis Blues which I've maintained season ticket for 30 long long years! The most rewarding part of my job is developing young people and watching them successfully flourish into their roles.


I have been with TWO MEN AND A TRUCK® for 15 years, I have two boy's five and 21 and lovely wife. I started out working on the trucks and have since worked in many different departments here at TWO MEN AND A TRUCK®. While I have enjoyed every position, I believe I really fit in my role as the hiring and training manager, I believe doing all the other roles has prepared me for this role. I am one of those lucky people that enjoys what they do, and I love coming to work every day.
I joined the TWO MEN AND A TRUCK® team in October of 2015. It has been a life changing decision for me. It's exciting to come to work every day and I look forward to the opportunities the company has to offer. Making sure that customers have a positive experience with us can be a challenge at times but also rewarding. I enjoy spending time with my two daughters, exercising, spending time outside, and traveling (especially to the beach!).
Hello, my name is Naim and I have been with TWO MEN AND A TRUCK since April of 2011. I started on the trucks as a mover and moved up to be the In Home Consultant. I currently manage the business to business moves, which allows me to interact with other companies and meet new people. I have a 4 month old daughter and have recently got married. In my free time I like to spend time with my big family and play/watch sports, my favorite sport is soccer (GO JUVENTUS). My goal is to grow with the company and someday own a TWO MEN AND A TRUCK franchise.
Always smile and stay positive, one day life will get tired of upsetting you!

Hi, my name is Niki. I started with TWO MEN AND A TRUCK® in 2016. I have 6-month baby girl. I enjoy reading, couponing and just being outdoors. This company is an amazing company in so many ways. They strive to the best and have excellent customer service and are an active part of the community and care about others. I'm proud to be part of the TWO MEN AND A TRUCK® family.
Hi, I'm Amy. I started with TWO MEN AND A TRUCK® in 2015. I enjoy working with my co-workers and all their different personalities! We are like a small family here and that makes it fun. I am a mother to 2 beautiful boys and most of my time goes to them. I also like to read and travel anywhere with warm weather!
Dennis began his career with TWO MEN AND A TRUCK® in 2005 as a mover. He says that his favorite part of his job is getting to coach movers and drivers. Dennis is motivated by the ability to grow within the company and the potential that his future holds.
Anthony began his career with TWO MEN AND A TRUCK® in 2015 as a mover. Today, Anthony is a Training Manager at our St. Louis location. He is motivated by growing and learning within the company and loves seeing the new guys progress in their abilities as movers.
Jared began his career with TWO MEN AND A TRUCK® in 2020 as a mover. His favorite part of working here is the family atmosphere. Jared finds motivation in setting goals and striving to achieve them.
I was born in Germany and was raised in a military family living in places like Missouri, Hawaii, and England. After graduating high school I enlisted in the United States Army and served as an Airborne Infantryman in the 82nd Airborne Division for four years. I got out of the military in 2013 and moved to Denver CO for 5 years where I worked at a moving company, eventually managing their warehouse and storage operations. I decided to use my GI bill and pursue a degree in History at the University of Edwardsville IL where I am currently enrolled. I moved back to the area in 2019 where I worked on the trucks as a mover and then became a driver supervisor while transitioning into school. I left TWO MEN AND A TRUCK briefly while focusing on school until I was offered a position in the Logistics department where they have been able to work with me and my school schedule. I am currently an operations manager here at TWO MEN AND A TRUCK STL while pursuing my degree in History specializing in applied historical method.