Giving back to the St. Louis community
Living the TWO MEN AND A TRUCK® mantra as the "Movers Who Care®" has given us the opportunity to grow beyond expectations while giving back to the community. In 2022 we donated over 1400 hours to local St. Louis area non-profits.

For the past 10 years we were proud to help brighten the holiday season through Toys for Tots. Our collaboration with our local Y98 radio station and The United States Marines, we collected toys from over 100 locations across the Metro St. Louis area. The campaign culminated in a two-day live broadcast from Gravois Bluffs shopping center, collecting almost two truckloads full of toys. An astonishing 104,236 toys were donated and $71,773 was collected during the campaign! We are excited to see how we can impact our local community in the future.
TWO MEN AND A TRUCK Campaigns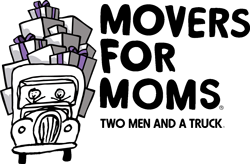 Movers for Moms®
Every spring we are thrilled to be a part of our company's Movers for Moms® nationwide campaign. With help from the community we collect personal care items for women in crisis.  We deliver them to local women's and family shelters in time for Mother's Day. We have partnered with 12 Great Southern Bank locations in and around the St. Louis area as well as other area businesses. Our event has helped women at Lydia's House and The Women's Safe House. We are grateful to be able to work with such amazing organizations. In 2016 we collected over 10,000 items! This year we have partnered with Our Lady's Inn. If you are interested in being a collection site for our 2017 donation drive please contact Marketing Manager, Cathleen Jones at Cathleen.jones@twomen.com for more information.
Local Partners
ANGEL'S ARMS
Foster children deserve the chance to be children, to be part of a family, and to live up to their potential. To achieve this, Angels' Arms provides homes, resources and emotional support to experienced foster parents so that they can raise the standard of care for foster children. Angels' Arms strives to keep sibling groups together, and partners with foster parents, community supporters, organizations and other non-profits to provide a loving home environment and help our children become successful citizens. TWO MEN AND A TRUCK® St. Louis generously donates moving services to each of the foster families. 
BASKET OF HOPE
Basket of Hope is a nonprofit organization providing generously packed gift baskets to seriously ill children and hope totes to their parents.  The baskets are filled with toys, games, craft items, movies, music, stuffed animals and more!  The Hope Totes are offered to their parents
and contain items to nourish them physically, mentally, emotionally, and spiritually.  Over 1,200 baskets and totes are delivered to hospitalized children in local hospitals each year!  We rely on TWO MEN AND A TRUCK® on several occasions to help transport the baskets and totes and help us transfer our auction items to the ballroom for our annual dinner auction fundraiser!  They are always so helpful and reliable.  We value their support!  They are a key sponsor of our program. 
EPWORTH CHILDREN AND FAMILY SERVICES
For 150 years, Epworth Children and Family Services has provided the St. Louis community with essential youth development services that have helped thousands of children overcome severe emotional and behavioral challenges caused by abuse or neglect.
H.E.R.O.E.S. CARE
"These fine folks have partnered with our charity to provide furniture for service members and veterans. Like clockwork, each month since 2011, TWO MEN AND A TRUCK® drivers have picked up home furnishings from the Rothman distribution center in O'Fallon, MO and delivered them to our Fenton facility, a distance of over 35 miles, all with their own manpower and at no charge.  Over the years, more than 1000 military families have been helped through this relationship including military families who have experienced fires, floods, and homelessness. On behalf of the board of directors, the executives, the staff, our thousands of volunteers, and the military families we serve, thank you for engendering a corporate culture which makes this great goodness possible not only for us, but for countless charities across the Nation."
ST. LOUIS AREA DIAPER BANK
TWO MEN AND A TRUCK® provides the Diaper Bank with manpower, trucks and supplies to help collect diapers for moms in need in St. Louis and surrounding areas. October is Diaper Need Awareness. We provided collection boxes to 72 local Schnuck's grocery stores to collect diapers. The forst weekend of October we provide a truck for a "stuff the truck" event. Last year we collected 4500 diapers. This year...150,000 diapers!!
TASK
​Team Activities for Special Kids (TASK) is a nonprofit, year-round instructional sports program that provides athletic and social opportunities to kids with special needs. The purpose of the program is to help build self-esteem and skills in children with special needs. Each athlete receives a team t-shirt and trophy upon completion of the sport. Each year TWO MEN AND A TRUCK® St. Louis is a major sponsor of the Annual Corn Hole Tournament and Family Festival.  
THE LITTLE BIT FOUNDATION
The Little Bit Foundation is an organization serving 6,000 elementary and middle school students in 20 St. Louis area schools. Ninety to 100 percent of the students in Little Bit schools are at or near the poverty level. They give a child the ability to enter the classroom confident and ready to learn by providing necessities such as clothing, shoes, food, wellness checks, eyeglasses and mental health. TWO MEN AND A TRUCK® St. Louis provides monthly delivery free of charge to the various schools.