Movers in the New Orleans community
TWO MEN AND A TRUCK Campaigns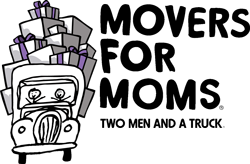 Movers for Moms®
We're getting ready for another year of Movers for Moms®! We participate in this giving campaign every year, partnering with local schools and businesses to help gather essential care items for mothers in need who are currently living in Hagar's House, a local women's/family shelter. The donations are delivered before Mother's Day by our team, as we feel it's important that these mothers get the chance to feel special on this day!
Donations are collected from the beginning of March through May 4, 2022. We will be delivering all donations on May 5th, just in time for Mother's Day. In the past, we've been able to collect anywhere from 500 to 1,500 items in a year. We'll be working within the community regulations due to COVID-19, but we're still hoping to make this a big year!
To learn more about how you can get involved with Movers for Moms®, visit our website or contact us directly! You can drop off essential care item donations through May 4, 2022, at 5029 Bloomfield St., Jefferson, LA 70121 or 1430 N. Collins Blvd., Covington, LA 70433.
A list of items we are collecting can be found below.
Here is our list of needs for new or very gently used items:
Linens
Twin/Twin XL sheet sets
Twin/Twin XL comforters 
Twin/Twin XL blankets
Pillows
Pillow cases
Towels Hand towels Washcloths
Full size toiletries - Please no hotel or travel size
Deodorant
Toothpaste
Shampoo
Conditioner
Body wash
Lotion
Tampons
Pads
COVID-19 supplies
N95 masks
Disinfectant spray
Household supplies Paper towels Toilet paper Non toxic cleaning supplies     - Dish soap     - Hand soap     - All purpose cleaner     - Laundry detergent
30 gallon and 50 gallon trash bags
Dish sponges
Glasses
Flatware
Dinner plates
Canned goods
Small appliances: coffee maker, blender, and toaster
Office Supplies
Pens
Pencils
Printer paper
Other notes
We are not accepting toys or clothing at this time.
We also have an Amazon wishlist here.
Local Partners
CHEERIODICALS
We have partnered with Cheeriodicals to deliver over hundreds of "cheer-up" gifts to Children's Hospital of New Orleans in the last few years. These events bring joy to hospitals full of children and we love being a part of this amazing charity!  
COVENANT HOUSE NEW ORLEANS
This year TWO MEN AND A TRUCK® New Orleans teamed up with the Covenant House New Orleans. We are donating the boxes used as the "mattresses" for the 9th Annual "Sleep Out" on November 19, 2020. 140+ community leaders will sit in small groups with our young people, offering advice & encouragement, before spending the night on the sidewalk to show their solidarity and support. For the year 2019, Covenant House New Orleans raised $620,000 of critical funds! We are very proud to be involved in such a wonderful cause!
JLNO'S TOUCH A TRUCK
The Junior League of New Orleans hosts a unique one day experience allowing children and their families an up-close look at their favorite trucks! They also get to meet the community officials who protect, serve and build in the New Orleans area. We have had the pleasure of participating in several of the last few years events. Hope to see everyone in 2020!
SECOND HARVEST FOOD BANK
We love giving back to our community! In doing so, we donate our time at the local Second Harvest Food Bank, helping box food and other items for those in need. We love that their mission is to end hunger in South Louisiana by providing food access, advocacy, education, and disaster response.