Moving our Community Forward
At TWO MEN AND A TRUCK®, we are dedicated to giving back to our community.  Each year, we donate our services to charity in order to help those in need.  Some of the wonderful organizations we work with include: Special Olympics of Illinois, Salvation Army, Move for Hunger, Cheeriodicals, and many more.
TWO MEN AND A TRUCK Campaigns
Movers for Moms®
Every Spring we put on a campaign called Movers For Moms® where we team up with local organizations and businesses in the community to collect essential care items for moms in need. On Mother's Day those items are delivered to a shelter for women who are victims of domestic abuse. Some of the wonderful organizations and businesses that participate in our Movers For Moms® campaign include: Des Plaines Public Library, Des Plaines Park District, Village Bank and Trust, Des Plaines City Hall, the Des Plaines Chamber of Commerce and Industry, Wild Bird Shack, and many more. We are so thankful for our generous community partners. Without them, none of this would be possible. Our goal is to make every mom feel special and loved on Mother's Day.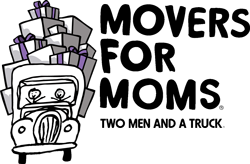 Local Partners
CHEERIODICALS
Cheeriodicals provides meaningful team-building opportunities with a purpose. Teams assemble bright green boxes of cheer to be delivered to hospitals. During the pandemic, Cheeriodicals has coordinated virtual team building activities with a focus on gifts for frontline heroes. We recently delivered a variety of Cheeriodicals to local Heroes. These deliveries included duffel bags for Veterans at VA Hospitals, Hospital bags for hospital heroes such as nurses and doctors, and face masks for other heroes working on the front lines. We appreciate all of their bravery and hard work, and we were honored to have the opportunity to show them our appreciation. Thank you, frontline heroes!
MOVE FOR HUNGER
When our customers are getting ready to move and realize they have extra non-perishable food items they would like to donate, we give them a box marked with a "Move For Hunger" sticker that can be filled with food donations. AT the end of the move, our movers make sure to bring the Move For Hunger box back to the office with them so the food donations can be given to our local food pantry to help those in need. Last year we donated 590lbs of food to Move For Hunger! That's enough food to provide over 490 meals to those in need.
SALVATION ARMY
We partner up with the Salvation Army of Des Plaines around the Holidays to help with their Angel Tree Program. Not only do we participate in the program and buy presents for children in need, but at the end of the program, we visit each collection site and pick up the presents that have been collected and deliver them to the Salvation Army.
SPECIAL OLYMPICS WINDY CITY RUBBER DUCKY DERBY 
Seeing the Chicago River turn green for St. Patrick's Day is fun, but have you ever seen the Chicago River turn yellow with over 60,000 rubber duckies? What we love most about this event is the proceeds from each rubber ducky benefit Special Olympics of Illinois. Each August we help transport and set-up the equipment for this wonderful event, and then we get to spend time with some of our favorite athletes and watch as a truck dumps the rubber duckies into the river.