We're hiring! Join our talented team in Lakeland.
Meet Our Family
Here at TWO MEN AND A TRUCK® we are always looking to grow our team with enthusiastic and motivated individuals. If you like delivering excellent customer service and being your best and having fun, come join our team!
Jacashes Mielec
Mover of the Month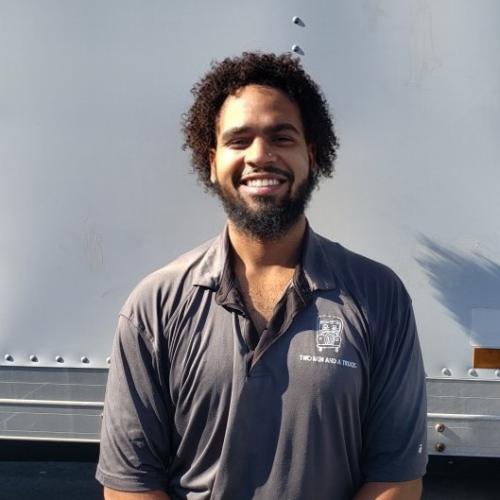 Jacashes Mielec's is this month's Mover of the Month! Mielec performed a total of 17 moves in the month of July and had a perfect score on his Move Experience Surveys! This means out of his 17 moves, 100% of his customers would refer our services to friends and family. Not only that, he scored a perfect 5.0/5.0 rating in both mover overall and customer satisfaction! Way to go champ!

Here's a review from one of Mielec's customers: "My moving team of Mielec, Torres, and Wilson were exceptional. The team was friendly and the move was made so smooth by them. I enjoyed working with them. I appreciate professionalism and respect. As always, great service from your company." - Ronda M.
I started my career at TWO MEN AND A TRUCK® in October of 2012, as a mover on the trucks. Since joining the team, I have held a few different positions prior to becoming the Senior Operations Manager for all 3 of our locations. I am also a member of the United States Coast Guard Reserve and drill out of Bradenton, FL once a month. In my free time, I like to ride my dirt bike either on trails or motocross tracks, and I also enjoy doing anything with my family!
I started my career at TWO MEN AND A TRUCK® in November of 2014. My current title is Customer Service/Sales Manager, which means my main responsibility is overseeing our sales staff and ensuring we deliver top-notch customer service! I was born and raised in New Jersey and moved to Florida to attend and play soccer for Southeastern University. In 2011, I graduated with my Bachelor's degree in Social Work. I am now a proud mom of my two beautiful kids, Britain and Jolie. In my free time, I enjoy meeting new people, spending time with my family and friends, and volunteering time to serve the Lakeland community.
I joined the TWO MEN AND A TRUCK® family in February of 2017 taking the position here as a Move Consultant and currently hold the position of Marketing/Recruiting Manager. In this position, I handle most of our hiring, host Open Houses, create and develop customer/business relationships, stay actively involved within our community by attending local events, and handle all social media platforms. I attended the University of South Florida (Mumba College of Business) in 2015 and earned a degree in Business Management. My goal is to learn as much as possible about the business and help maintain the amazing culture we have here at TWO MEN AND A TRUCK®.
I joined the TWO MEN AND A TRUCK family in August of 2019 as an Administrative Assistant and have worked my way into the role of Director of Accounting. My daily duties consist of bookkeeping, coding, closing out job sheets, and managing the budget for all three of our locations. My favorite part of my job is definitely the people. I love our family-like culture and being surrounded by people who consistently uplift me and push me to be the best version of myself. In my free time, I enjoy exercising, exploring new places, and being an active member at my church.
I started my career at TWO MEN AND A TRUCK® in October of 2020, as the Human Resources Director for all three of our locations (Lakeland, Kissimmee, and East Orlando). With the continued growth of the company, it became important to develop my role to ensure that we not only uphold our core values and maintain our excellent customer service standards, but that we also ensure that our employee's experiences remain happy and balanced. I graduated from the University of South Florida with a Bachelor's in English, Professional Writing, Rhetoric & Technology. In my spare time, I enjoy spending time with friends and family, riding my bike, creating art, gardening, going on adventures with our dog, and traveling.
I started with the TMT brand in 2008 as a mover while attending college full-time at Daytona State University. I relocated to the Kissimmee branch, working under Mason Trowbridge and learning more about the business. I advanced from mover to driver and now I'm a Move Manager. I am in charge of hiring, safety & DOT compliance, training, and dispatching. I am a New Jersey native, husband, and father to 9. I enjoy spending time on music, working on projects for our new house, gardening with my wife, and watching my children grow. My time at TMT has been an amazing opportunity for me and provided me with areas of growth and learning. I plan to continue with the brand and take advantage of all opportunities available for further growth within the TMT family.
Originally from St. Petersburg, Florida, I previously worked in the sports industry; for teams like FC Dallas (MLS) and the Tampa Bay Rowdies (USL Championship) before deciding to move to Lakeland, Florida to work for the Florida Tropics (MASL). Because of COVID-19 I ended up working for TWO MEN AND A TRUCK Polk in April of 2020 and have loved every minute of it. I'm excited to see what is next for me with the franchise and look forward to growing with the company. I have a bachelor's degree in Sociology from Florida Gulf Coast University in Fort Myers, FL, with a minor in Business Management. In my spare time, I like to hike, travel, bike, and play soccer. I got married in November of 2019 to my beautiful wife Marissa. We have a cat named Alfred and I drive a 2021 Toyota Tacoma!
I have been with TWO MEN AND A TRUCK since April of 2013. I started as a Move Consultant and have worked my way into the role of Sales Support Specialist. I am responsible for confirmations calls, collecting customer deposits, and do post move follow ups. I moved to Lakeland in 2003, from Tulsa, Oklahoma, where I worked as an Office Manager in the promotional products business. I was born in Los Angeles, CA, and raised on a ranch in rural Kansas, so I have an appreciation for both city and rural life. Outside of work, I enjoy fishing on Tampa Bay as well as scuba diving. However, my passion is traveling and seeing new places as well as spending time with my grandkids.
On November 15, 2013 to be exact, I started my career at TWO MEN AND A TRUCK®. My first job title here was a mover. After working a couple months on the truck I was then promoted to the office. I am now the In-Home Consultant. I set up and perform onsite estimates for customers who are moving out of state or for those who have homes that exceed 2,000 square feet. While I am not giving onsite estimates, I answer phones, create local estimates, perform follow up calls, and check GPS for loaded and unloaded notes. In my free time, I enjoy relaxing, going to the movies, playing sports with friends, visiting new cities and restaurants, and going on new adventures.
Originally from Athens, Georgia, I moved to Orlando, FL in 2017 to pursue a role with The Walt Disney Company. During my time with the company, I fell in love with providing premier customer service. I'm so excited to be a part of the TWO MEN AND A TRUCK® brand and continue to provide exceptional assistance to our clients and hone my craft. I'm currently pursuing a Masters Degree in Instructional Design and Technology through Purdue. In my spare time, I love exploring the outdoors and traveling to enjoy all things from hiking to white water rafting. After years of being a camp counselor, I hold onto my connection to nature and the beauty of holds along with bringing my camp counselor energy and optimism to every opportunity.
My name is Mariacarolina and I started my career in March of 2021. I was born in Maracaibo, Venezuela and moved to the USA in 2016 to seek better opportunities for me and my family. I studied journalism and modern languages, which is how I learned to speak English. This opened so many doors for me, including becoming a bilingual CSR for TWO MEN AND A TRUCK. I am very happy to be able to help our customers and our Latino community in Central Florida with their moving needs.
My name is Taylor, I am a Lakeland native. I have been with TWO MEN AND A TRUCK since January of 2022. I have always been in the customer service industry and I work really hard to provide all customers with the best experience. I enjoy spending time with my husband and my son. If I am not at work, you can find me on the water or at a hockey game.
My name is Tracy Begley. I am originally from Durban, South Africa, and have been here in the United States since 1997. I received my citizenship in 2008 and have enjoyed every minute since being here in the states. I have two amazing kids, Caitlin and Aidan. I fell in love with providing premier customer service at Peltz Shoes where I worked for 17 years managing the Brandon, FL location. I started with TWO MEN AND A TRUCK in January of 2021 and immediately was so excited to be a part of this amazing team. I love the outdoors and spend most of my time outside of work with my family going kayaking, exploring new places, and just being around nature.