Serving the Polk Community for over 10 years!
TWO MEN AND A TRUCK Campaigns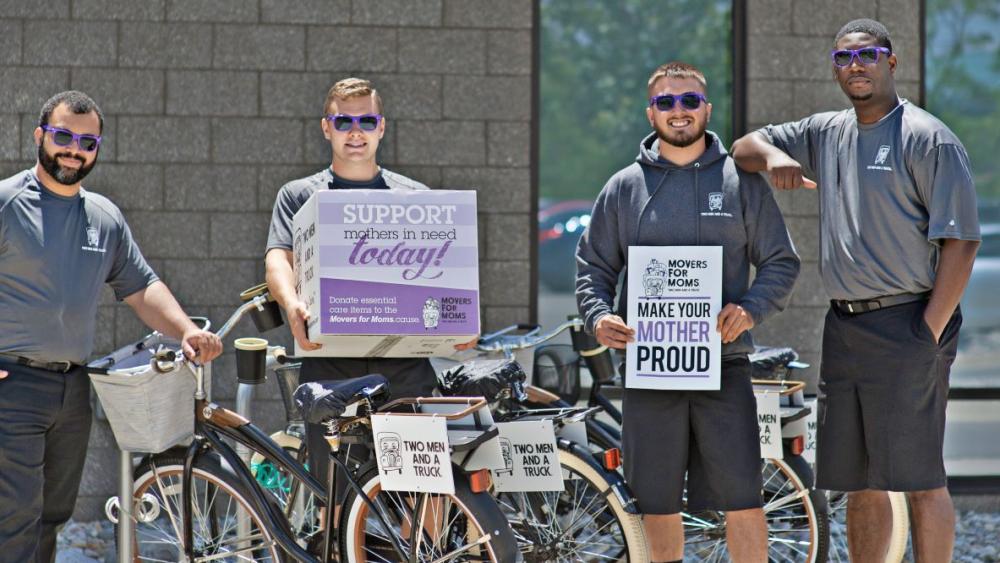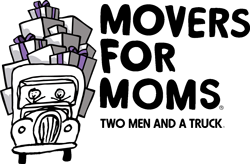 Movers for Moms®
HOW THE PROGRAM WORKS
TWO MEN AND A TRUCK locations partner with local businesses,  TWO MEN AND A TRUCK® Polk County has participated in the annual Movers for Moms® campaign since its inception in 2007. We partner with local businesses, schools, and other organizations to collect essential care items, such as soap and shampoo, for women staying in domestic abuse or homeless shelters. Once all donations are collected, our move teams pick up and deliver the items to Peace River Center Victim Services in time for Mother's Day. If you are interested in becoming a collection center, please contact marketing0234@twomen.com.
A special thank you to our 2022 Movers for Moms®  collection partners!
Pace Center For Girls of Polk County
Local Partners
UNITED WAY OF CENTRAL FLORIDA
United Way of Central Florida is focused on seeing that more of our young children are ready on the first day of school to claim a quality education; and that families have access to the financial tools necessary to manage their income and support themselves through life, to retirement. And we're committed to supporting individual decisions that produce good health. 
TOYS FOR TOTS
In 2015, the Marine Corps Reserve Polk County Toys for Tots provided new, unwrapped toys, books, and stocking stuffers to 8,375 local children in need. As an all-volunteer organization, everyone who donates time becomes an integral part of the program. Toys for Tots appreciates the community spirit and the help provided by TWO MEN AND A TRUCK® Lakeland!
LAKELAND VOLUNTEERS IN MEDICINE 
The mission of the medical and community volunteers at LVIM is to provide free, high quality outpatient medical, dental, and mental health care to the working and uninsured of Polk County in a compassionate manner. All patients are treated with the dignity and respect they deserve while receiving quality healthcare and the medicine they need to continue being productive community members. LVIM also helps to reduce inappropriate emergency room visits and strives for a healthier community by providing services the working and uninsured would struggle to attain elsewhere.
In addition to Primary Care, LVIM has many specialists volunteering their time at LVIM or in their offices, in the areas of Asthma, Cardiology, Chiropractic, Pediatrics, Dermatology, ENT, GI, Dental, Orthopedics, Ophthalmology and Optometry, Physical Therapy, Podiatry, General Surgery, Vascular, Internal Medicine, Family Medicine, and Women's Health. In addition, LVIM leverages every available community resource to provide vital tests or procedures that LVIM patients may need.
ALLIANCE FOR INDEPENDENCE
Alliance for Independence is an Adult Day Training Center that provides independent living skills and vocational training to Polk County adults with intellectual and developmental disabilities. AFI is a nonprofit operating under the direction of a volunteer Board of Directors. We strive daily to provide our clients with the knowledge and practical experience to become as independent as possible.
Our clients rely on Alliance for Independence, not only for day training, but for a sense of community and a place where their uniqueness and determination of spirit is celebrated.
KIWANIS CLUB OF LAKELAND & CITRUS CENTER KIWANIS
We have partnered with both Kiwanis Clubs in South Lakeland to serve the children of need in our community. By providing labor for events and sponsoring various events and fundraisers, TWO MEN AND A TRUCK® Polk County has always lived up to on of our most important core values – give back to the community.
CAMPFIRE-SUNSHINE
Helping a young person become who they want to be takes time, encouragement, and paying attention to what sparks a passion. At Camp Fire, that's what we do. We listen, we encourage, and we provide the opportunity to uncover each young person's unique interests. We help our youth become the exceptional people they are destined to be, buoyant with potential to do anything they dream of doing.
CHILDREN'S HOME SOCIETY OF FLORIDA
Children's Home Society of Florida is dedicated to building bridges to success for children by opening doors to new opportunities and empowering children, teens, and families. Children's Home Society of Florid aims to find and build upon strengths, so these children may rise above challenges and circumstances and realize their full potential.