We're hiring! Join our talented team in Huntsville.
Office Staff
We really CARE about our people! From the office staff to the movers, everyone on our TMT HSV Team is essential to what we do for YOU! Our team is made up of unique individuals who contribute their time, talents, personalities, & skills to ensure an excellent customer service experience as well as a positive work environment. 
Joe Hollingsworth
A Message from the Staff to Joe on 25 years!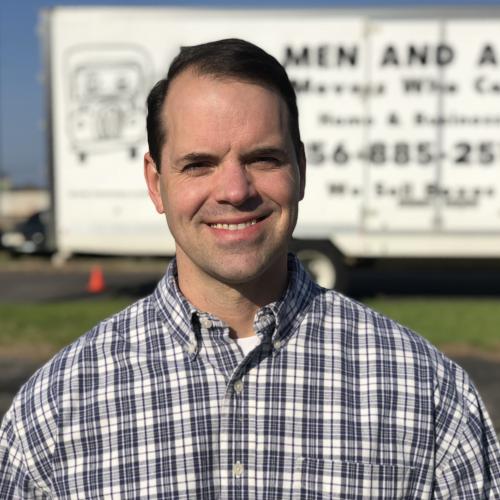 Congratulations on such a huge milestone! TWO MEN AND A TRUCK has flourished and grown because of your faith in God, determination, and vision for this company. You have truly made an impact on so many lives within the company and this community.  You have created a great legacy within North Alabama and have always upheld the TWO MEN AND A TRUCK motto.

We thank you for the patience, guidance, and wisdom that you have given your employees throughout the years.

- Your TMT HSV Team
Kobyn was born a military child and was raised in Los Angeles, CA but has lived in North Carolina, Tawain, Kentucky, Indiana & Georgia. Kobyn's favorite things about his job here at TWO MEN AND A TRUCK® are helping customers and making sure they are happy. In his spare time, Kobyn enjoys cliff jumping, body flipping, playing 2k, and riding his Ninja motorcycle. He and his family enjoy spending time together on the weekends and swimming in their pool. Kobyn's favorite type of food is Mexican, Chinese, and pizza. His favorite type of music is hip- hop and country and his favorite artist is Big X.
Raymond has lived in Huntsville, AL for about 5 years and two of those years have been dedicated to working with TWO MEN AND A TRUCK®. Some of Raymond's favorite things about the job are lifting heavy items and getting the job done! His top priority is customer satisfaction, and he enjoys regularly interacting with customers. Raymond's hobbies include playing video games, his favorite game being GTA and he also enjoys hiking up Monte Sano Mountain and going to the gym. Raymond's favorite type of food is pepperoni pizza, and his favorite genre of music is Classic Rock. His kind disposition has gained him the title of Driver/ Trainer here at TWO MEN AND A TRUCK®.
Josh is originally from Fort Payne, AL, and joined the TWO MEN AND A TRUCK Huntsville family at the height of the 2023 MOVERS FOR MOMS® campaign! He is a very hard worker and in the few months that Josh has been at TWO MEN AND A TRUCK, he says that he enjoys interacting with his co-workers and customers the most. Josh enjoys sleeping and going out to the lake in his spare time. Josh says that his favorite food is seafood, and his favorite genres of music are rap and hip-hop.
TWO MEN AND A TRUCK is excited to welcome U.K. native Rob Donnelly as our new onsite manager! Rob moved to America in 2005 from London, specifically Greenwich, and from there relocated to Knoxville, TN, and then Huntsville, AL. Rob enjoys soccer and football. His favorite U.K. football team is Tottenham Hotspur football club which he's supported since he was old enough to pronounce 'Tottenham Hotspur'. And his favorite American football team is the Tennessee Volunteers. Rob started out as a mover at TWO MEN AND A TRUCK only a few months ago and was quickly moved up to the estimator position here in Huntsville. Rob has two beautiful children who he loves spending time with. Rob also loves to read during his time off.
Adreanne' Humphrey is the Marketing Director for TWO MEN AND A TRUCK Huntsville. Adreanne' handles all community relations, promotion, networking, and digital advertising for TMT HSV. She's in charge of the company's charity campaigns such as the annual spring give-back MOVERS FOR MOMS®. Adreanne' greatly appreciates the good-heartedness and kindness of the TMT staff, movers, and drivers. When she's off work, Adreanne' enjoys singing, being outside, and going out with friends and family. She is excited to be a part of the TWO MEN AND A TRUCK family.
Meredith joined the TWO MEN AND A TRUCK TEAM as a moving consultant in February of 2023. She has been working in customer service since she was 16. She has always had a passion for helping people and thrives in building friendships. Meredith is always looking for a new adventure, from traveling to thrilling life experiences. In her spare time, Meredith enjoys reading, studying herbalism, crafting, baking, and hiking. If it's beautiful outside, you can find her out in the woods!
Joe Hollingsworth is the local franchisee for Huntsville and all of North Alabama. He graduated from Auburn University with a degree in mechanical engineering and pursued a career in that field for four years. It was around that time, that he learned of the opportunities available with TWO MEN AND A TRUCK®. He quit his engineering job, purchased the North Alabama territory, and has been in business for more than 25 years. He says, he cannot imagine doing anything else. Joe says, God has blessed him with a job that he loves, and people who absolutely care for their peers, the company, and their daily performance. He's married to his beautiful wife Angela. They have a daughter and two boys. He loves spending time with his family and watching his kids play sports and dance. He enjoys hunting, fishing, and the outdoors.
Drew Vandiver began his journey with TWO MEN AND A TRUCK® in June 2009 as a mover. He says, he was immediately challenged with the company's mission of exceeding customers' expectations. Since then, Drew has worked in all levels of management for TWO MEN AND A TRUCK®. He's currently the General Manager. Drew says, his main goal is to blow TWO MEN AND A TRUCK® customers away with excellent moving service. He's married to his high school sweetheart, Lindsay. They have two daughters, Emalyn and Gabriella, a son, Mason, and a child on the way. He says, he loves their busy lives filled with baseball, dance, football, wrestling, and soccer. They enjoy all sports and love a good healthy competition – which lends itself to a great work ethic at TWO MEN AND A TRUCK®.
Samantha Payne has worked for TWO MEN AND A TRUCK since 2016. She started as a moving consultant and worked her way up to Sales Manager. Samantha says, TWO MEN AND A TRUCK has given her a variety of skills she can use for future endeavors. Her favorite part about working for TWO MEN AND A TRUCK is the family-friendly atmosphere. Samantha says, she feels blessed to have amazing co-workers. Outside of work, she's a mom of two young children. She says they keep her busy with t-ball, gymnastics, and any other outdoor activity!
Thomas Bristow is the Mover Manager at TWO MEN AND A TRUCK. His duties are to train newcomers to the company, as well as training drivers and helping to maintain the fleet. Before coming to TWO MEN AND A TRUCK, Thomas was a Team Lead on the management team at Yutaka Technologies in Cullman, Alabama for nearly 10 years. Prior to that, Thomas served in the military for 8 years being deployed overseas twice; once to Iraq and once to Afghanistan. There, Thomas trained the Iraqi police force and the Iraqi army to do their jobs better in order to keep their home safer. In his off time, Thomas likes to spend time with his wife, Carol, watching movies and playing games together or spending time with their children, Isaac and Alysia, and their granddaughter, Bella.
Austin Garner recently moved to Huntsville from south Alabama in the fall of 2021. He says he couldn't be happier to work with such an amazing team. Prior to working with TWO MEN AND A TRUCK, Austin attended college and competed with his university's cheer team. Between class, practice, and during the summer months, he worked as a personal trainer and moved pianos for a local piano gallery. Upon graduation, Austin was promoted to serve in a management role with the gym he worked for. He also started a personal financial services practice during that time. Austin says he's grateful for the years he worked in the two roles. They allowed him to gain a great deal of experience in various aspects of management. Austin says, when he considered his long-term goals, he was led to the great city of Huntsville, AL. He says, he feels blessed beyond measure to be here and looks forward to serving the community and team for years to come.
Andrew Moore has been with TWO MEN AND A TRUCK since May of 2018. He started out as a mover and was promoted to driver in a month. Andrew spent a year as a driver at the Huntsville franchise, then relocated to Birmingham with his wife, Sophia. He was a driver at the Birmingham franchise for a year. Andrew's family moved back to Huntsville to be a driver trainer for a year. He was promoted to Safety Manager in July of 2021. In December of 2021, he became the Huntsville Franchise Operations Manager. Andrew says the job has taught him what a good work ethic looks like. He strives for perfection every day. He says, his favorite part about this job is the relationships with his coworkers and getting out in the community to meet someone new every day. Outside of work, Andrew is a huge football and basketball fan. Andrew and Sophia have been married since October 2020.
Amy Clark joined the TWO MEN AND A TRUCK Huntsville team as a moving consultant in August 2021. She's been in the customer service industry for 21 years and has had the opportunity to work with a variety of customers. Amy says, she loves helping others in any way possible. Amy says, she's excited to be a part of the TWO MEN AND A TRUCK team. She enjoys assisting new and existing customers with their moving needs. Amy is a 1997 graduate of Alabama A&M University. She lives the University's motto of "Service is Sovereignty." Amy is a native Huntsvillian, who enjoys college football, traveling, trying new cuisine, and spending time with loved ones. She says, her TMT HSV goal is to provide the best customer experience possible by providing education and options.
Destinee Nance came on as a TWO MEN AND A TRUCK moving consultant in May 2021. Destinee is the mom of a 2 1/2-year-old boy. She has always had a heart for the customer service industry. Destinee loves cooking and animals. She says, all through grade school, her dream was to become a chef or a vet. After graduating from Lee High School in 2010, she attended Calhoun Community College. Destinee's major was Business Administration. She says family is extremely important. Her family is large and the majority live in the South. She says, she's excited to continue her career with a family-oriented company like TWO MEN AND A TRUCK!
Tori Roy joined TWO MEN AND A TRUCK as a moving consultant in June 2020. She has worked in the customer service industry since she was 16. She says, her job at TMT HSV is her favorite one yet. Tori says, her passion for helping people allows her to help put customers at ease as they navigate the moving process. She says, TWO MEN AND A TRUCK has given her the determination she's been missing in other jobs. She appreciates the supportive and family-oriented environment provided at TMT HSV. Tori says it makes her want to come to work every day. When not at work, Tori is chasing down her five amazing children: Zayden, Ryleigh, Lincoln, Jaxon, and Jericho. She says, their favorite thing to do is outdoor activities. They love to hike, bike, and play in the rain. When she gets time to herself, you can find her reading a book, doing photography, at the gym, or running in her neighborhood. Tori says, she appreciates the growth in her career so far at TWO MEN AND A TRUCK.