We're hiring! Join our talented team in Auburn-Montgomery.
Meet the Auburn/Montgomery,AL Team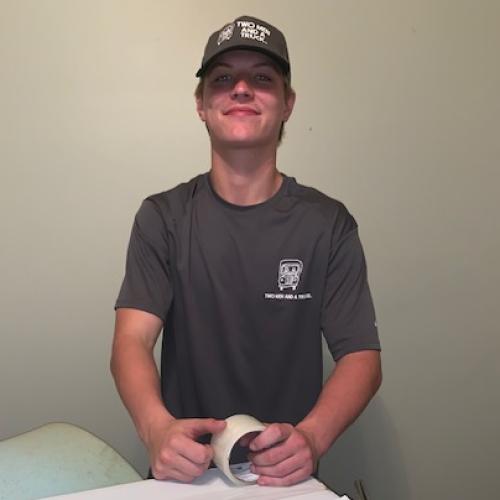 Featured Team Member
Anthony Hickman
MOVER OF THE MONTH
Anthony started with our franchise in November of 2018. He quickly become a favorite among the movers and is often requested for moves. In the month of May, Anthony received 6 reply cards with a 100% referral rate making him May's mover of the month.
JOE LOVVORN
Franchise Owner
Auburn-Montgomery, AL Franchisee
ROB PERRY
General Manager
I began working at TWO MEN AND A TRUCK in August of 2005. I started out as a mover and am now the General Manager. I enjoy the team work involved in making each day happen and helping our customers' moves exceed their expectations. In my free time, I enjoy spending time with my wife and 2 boys.
AMANDA MCCOURRY
Office Manager
I began working at TWO MEN AND A TRUCK in May of 2011. I started as customer service representative after graduating from Auburn University and have since been promoted to Office Manager. I enjoy all aspects of my job, especially the day to day interactions with my co-workers. In my free time, I enjoy spending time with my dog Jasper, and cheering on Auburn University and Carolina Panther football.
JOSH STEWART
Operations Manager
I started working with TWO MEN AND A TRUCK 6 months ago and have come to really enjoy the daily interactions with our movers and customers. Working with the movers to continue to exceed each customers' expectations has been my favorite part of the job thus far. In my free time I enjoy spending time with my fiancé and our 2 dogs Duke and Daisy. I also enjoy going to the movies and watching Auburn football.
QUANTINA JONES
Lead Customer Service Representative
I started working for TWO MEN AND A TRUCK Auburn-Montgomery in 2015 after relocating from Atlanta, GA. After working in the medical field for over 15 years, initially I was not sure how my new role as a Customer Service Representative would fulfill my desire to help others. I soon realized that moving can be very stressful and I was able to alleviate a lot of that stress for my customers by coordinating their moves. I have also been able to relate to the customers as a former customer of TWO MEN AND A TRUCK as well. I know firsthand how well our company tries to implement the Core Values into each and every move. My favorite of the day is just before I hang up the phone I hear the words that make me smile: "Thank you, you have been very helpful". After work you will be sure to find me playing with my two Mini Dachshunds Beau and Norbit or my newest addition, David the cat.
KATIE ENZOR
Marketing Consultant
After graduating from Auburn University with a strong emphasis in Communication, I was given the opportunity to join a fun-loving-service driven organization as a Customer Service Representative in July 2015. The most fun aspect of the job is learning about each and every customers' specific needs while striving to exceed their expectations. Working closely with my co-workers and the gentlemen in the trucks bring such growth to my life as an individual.

Come visit with us in the office and find out how much fun moving can be!